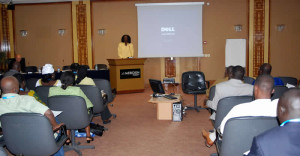 Four comprehensive panel talks at this year's eLearning Africa conference, taking place in Mauritius from September 27 to 29, will explore how technology enhanced learning can be used to develop useful and lifelong skills that are attractive to employers and reinforce learners' employability.
The thoughtfully devised sessions will examine how technology can be used across a wide range of education and training models to ensure a better workforce that will have the edge on the job market.
"According to IMF projections, sub-Saharan Africa will need to create 18 million new jobs annually until 2035," commented M'Hamed Chérif, General Manager at Invest in Africa Now! "We must strive to meet this challenge, so we need to create an educated and skilled workforce."
Rebecca Stromeyer, founder of eLearning Africa added, "We need to get smart about using education to give the workforce valuable skills that employers want, not just to give them an accreditation. Technology enhanced learning offer extraordinary potential in this regard. These sessions will underpin how jobseekers can make online learning work for them and their career."
The Panel Talks
Skills Development in Education and the Needs of the pan-African Labour Market
The panellists will present innovative research and approaches to developing competitive skills in Africa, informing attendees how technology is currently being used with local examples. Panellists will also share their views on and professional experience with solutions to meet specific challenges they faced. Participants will be invited to draw on personal examples of their local situations and share their views about contextual solutions for skills development. This cross-pollination of ideas will provide a great opportunity for all in attendance to learn first hand from implementers about utilising eLearning for skills development.
Investing in Job Creation and New Skills
This session will focus on skills development, which is a crucial factor in stimulating sustainable development and growth. The continual development of skills is also vital to ensure that opportunities to meet the new demands of changing economies in different contexts can be met. The discussion will address issues such as how to bridge the digital divide with a focus on start-ups and innovation in Africa, emphasising how to spark youth interest in technology-driven agriculture, food security, and renewable energies.
The Future of Skills in the Workplace in Africa
The ever-changing nature of learning in the modern world presents significant opportunities and challenges, and at this event, crucial concerns will be brought to the forefront. How can technology become a partner and a facilitator in the encouragement of innovative change? What new skills do L&D professionals, designers and teachers require? Expert, experience-based answers to these and other complex questions will be proffered to those on hand for discussion. Participants at this event can look forward to an information-packed tour of the new landscape of learning.
African Skills for African Jobs
At this meeting, results of research on the job requirements and concomitant training needs in various areas of the Continent's extensive labour market will be deliberated. In addition, participants will be briefed on the specific training demands in various sectors. Takeaways will come in the context of proposals that elucidate how eLearning can help train potential employees in quick and cost-effective ways. Attendees will also profit from insights into industrial-skills gaps and how technology-enhanced learning can offer solutions to workers disadvantaged by their lack of technical and vocational qualifications and competences.
List of Panel Talks' Participants
Skills Development in Education and the Needs of the pan-African Labour Market
Chairperson: Rajnish Hawabhay, Chief Technical Officer – ICT, Ministry of Technology, Communication & Innovation, Republic of Mauritius
• Salah-Eddine Kandri, IFC – World Bank Group, United Arab Emirates: The Future of Work in Africa: a Renewed Skills Agenda
• Marc Desmarais, Medine Ltd, Mauritius: Topic to be announced
Investing in Job Creation and New Skills
Chairperson: Michelle Makaroff, PPP-Connect, Belgium
• M'Hamed Chérif, Invest in Africa Now, Belgium
• Emmanuel Clemot, Blackboard, UK
The Future of Skills in the Workplace in Africa
Chairperson: Amany Asfour, African Society for Scientific Research and Technology (ASSRT), Egypt
• Ramesh Durbarry, Civil Service College, Mauritius: Mauritius' Challenges to Entice Civil Servants to Adopt eLearning to Enhance Competencies
• Moyomola Bolarin, United Nations System Staff College (UNSSC), Italy: Designing Online Learning, Facilitating Real-Time Virtual Classroom, and Evaluating Transfer of Learning: the UNSSC Experience
• Danny Gooris, Oracle Academy EMEA, Belgium: The Gateway to a Promising Future
African Skills for African Jobs
Chairperson: Gabriel Konayuma, Zambia
• Julias Alego, FSD Africa, Kenya: Research on the Capability of Digital and eLearning Solutions to Address Capacity-Building Needs of FSPs
• Jonathan Aspeling, Cape Peninsula University of Technology, South Africa: An eLearning Strategy for the South African Wholesale and Retail Sectors
• Emmanuel Clemot, Blackboard, UK: Delivering Institution and Student Success: Massification, Employability, and the Quality of Education
• Reuben Etuk, Center for Education and Career Initiative (CEDCI), Nigeria: An Industrialist's View of Nigerian Youth Unemployment Context: Opportunity for Utilising eLearning for Technical Competencies