By Isaac Kasana, Research & Education Network for Uganda
Introduction
For many years, the primary thrust of eLearning was to complement or enhance distance-learning needs: to make it more affordable and more accessible for the learners and also to enhance the educators' throughput. With the developments in technology capability over the past 12 years, eLearning in its own right can now address many more education needs, as well as bridge many of the gaps that exist in education delivery.
What needs?
Uganda's enduring needs in the sphere of education and research are access, affordability, equity, quality/relevance and collaboration.  Faster adoption and mainstreaming eLearning techniques, as well as the following emerging trends, can help meet education demands arising out of these needs:
Massive increase of access is needed in terms of persons or parts of the country so that quality education and research engagement are reliably ensured. This points to increased access in terms of numbers and coverage. For Uganda, given the present demographics, with 70% of the population being below the age of 35 and high numbers of unemployment, increasing access is an imperative.
Given the growing congestion of urban centres, the reply to the need for access must encompass the growing demand to access learning, anywhere and anytime.
The need to increasingly cater for persons who are temporarily out of work (e.g. nursing mothers, persons laid off due to technology changes or economic down-turns, refugees or prisoners).
eLearning access is also crucial in light of the growing identification of special-need situations. Examples are persons with disabilities, refugees, internally displaced persons, and persons who suffer under gender-linked inhibitions of access to education. Actions relevant to the last-mentioned group include the need to make it easier for girl-children not to miss lessons/lectures when they are indisposed, or the need for young mothers to access continuing professional development (CPD) or qualification upgrades during the time when their families are still young.
Gaps and other use cases
Persistent gaps in the teaching of science, technology, engineering and mathematics (STEM) courses that eLearning could help to address are:
the dismal yield of high-performing graduates with good grades who, however, do not possess the skills that would make them job-market-ready, such as being innovative problem-solvers or having a flexible deployment potential
the growing need for interdisciplinary work and research opportunities, especially as courses become more and more specialised (computer science only became a stand-alone profession around 1978)
the high numbers of students who hail from areas that are far from major urban centres and are thus isolated from opportunities to access quality education. After the broadband challenge has been addressed through efforts of a combination of players, eLearning could be utilised to help address this access-divide gap.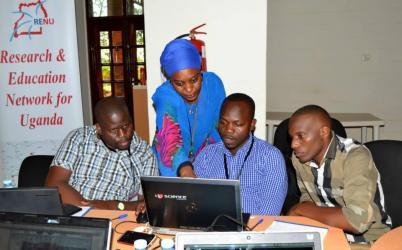 eLearning can help to bridge the persistent gaps mentioned above – as well as others – by enabling pedagogical innovations and off-timetable availability of (missed) lectures, as well as by enhancing the ability to illustrate complex concepts through ICT-enabled modelling and simulations tools.
The needs and gaps articulated so far necessitate the faster adoption of eLearning techniques in order to give educators more tools for improving pedagogy, especially for STEM courses. Employing eLearning would also enable education providers to cater for out-of-class situations and offer flexible learning times in accordance with learners' circumstances. There are also workers who may require in-service skills, such as professionals who cannot take long breaks from their jobs to pursue postgraduate education. If embraced, eLearning can help to make the concept of education anywhere anytime a reality.
The necessity to share resources
A key factor in making education more affordable for more people is widespread sharing of scarce or expensive resources. eLearning is the surest way to enable impactful sharing of education resources, such as expensive digital books, other online library resources, research data and publications, e-labs, as well as specialised educators and professional mentorship. This can help address the growing divide in access to quality education between major urban centres and upcountry or rural communities.
Challenges
More widespread utilisation of eLearning still faces a number of challenges in the Ugandan education environment, which include
the still relatively high cost of last-mile connectivity, especially for upcountry institutions
access to electricity and its high cost
limited eLearning proficiency among educationists and students, which points to a need for massive capacity-building efforts
inadequate readiness of many higher education institutions to integrate eLearning into their education delivery mix, combined with reluctance to collaborate in addressing this issue
the relatively high personal cost of commercial bandwidth for access in off-campus situations.
Concluding thoughts
Through the Millennium Goals Initiative to make primary and secondary education universally available, some progress has been realised on the journey to widespread access to education. However, quality and equity gaps still persist that could be addressed through faster adoption of eLearning as an emerging channel to enhance access to quality education.
A limited number of institutions that demonstrate a reasonable state of readiness to utilise eLearning should be assisted in piloting its adoption as one of the channels for quality education delivery.
Sharable facilities could be centrally hosted on the NREN backbone, which now has near countrywide coverage.
An intensive capacity-building programme can be initiated and then rolled out, starting with training of trainers combined with training staff of early-adoption institutions. This could later be expanded to cover more educators, until many institutions are eLearning enabled.
eLearning training can be integrated into teacher-training curricula.
Building some kind of impact-assessment strategy into the process would be beneficial.