Games are an effective and efficient instructional strategy for teaching and learning when they involved competition and are organized by rules to achieve an educational goal. Video games are a fun and safe environment, where students can try alternatives and see the consequences, learning from their own mistakes and practical experiences. Serious games have proven to be equally or even more effective than traditional ways of learning. Gamification is even considered as the future of education. But in Africa, this tendency is low and we believe that there are two factors that can explain the need for Africa to adopt and integrate this innovative instructional methodology.
Africa is the continent with the youngest population in the world.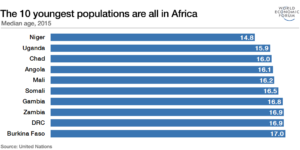 As we can notice, they are all under 20. Marc Prensky defined them as the "digital natives". He explains, "Digital Natives are used to receiving information really fast. They like to parallel process and multi-task. They prefer their graphics before their text rather than the opposite. […]They thrive on instant gratification and frequent rewards. They prefer games to "serious" work[i]". Therefore, with young Africans, gamified learning interventions will offer a bigger impact than traditional learning scenarios[ii].
But gamification applies to more than just digital natives.
Many people have unknowingly experienced gamification. For instance, we belong to different rewards programs, shop loyalty card, job promotion… These are gamification example in real-life situations. For African educators to meet the needs and expectations of new generations  of African students,  consideration  of  theirs  skills  and  learning  styles  will  be  necessary.
Africa is the second largest continent using mobile technologies in the world.
The Ericson Mobility Report predicts that 70% of the world's population will be using smartphones by 2020. Their Global Mobility Report suggests that there is an 85% mobile subscription rate in Sub-Saharan Africa but this figure is expected to reach 100% by 2021 and 105% by 2022. We currently have a flourishing mobile ecosystem that, coupled with the declining cost of smartphones is helping to galvanize the African mobile economy. This boom opens a window of opportunity to reach the poor through their phone, using simple mobile serious games (MSG).
Basing on these considerations, mobile learning through MSG is surely one of the best instructional approaches for the rising generation of African Youth. African videogame developer should use smartphones as an instrument to further improve learning efficiency. Through them, the development of skills will be easier and more affordable than ever before in Africa. Some African developers have started creating an educational game to change community's behavior.
Maliyo's game Mosquito Smasher isn't just a satisfying time-killer, it "aimed at raising awareness of malaria, and sensitizing people about the need to cultivate good hygiene habits"[iii] says Obi, cofounder of Maliyo Games. Mosquito Hood, designed by Momentum Core, educates Africans living in rural areas about the risks and ways to protect themselves against malaria. Ugandan game developer Daniel Okalany of Kola Studios, created ZWord, a game that uses the zombie destruction method and combines the properties of educational games with popular culture to learn to spell. The south African gaming studio, Afroes, focuses on educational games that can bring social change. Their game Moraba aims to empower youth audiences to prevent and act on Gender Based Violence.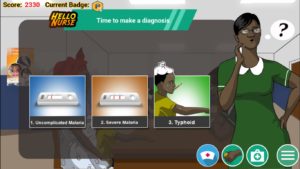 Ghana's Leti Arts game Hello Nurse is an interactive story designed to help trainee medical staff diagnose and treat malaria. An impact evaluation study[iv] demonstrated its effectiveness in the acquisition of good behavior on malaria's treatment.  My Jorley, another Leti Arts' game, deal with sexual health in adolescents and young adults aged 12-21.
Ghana At Heart has also developed Ananse The Teacher, an all-inclusive practical app that makes, reading and learning STEAM fun.
Conclusion
African students can learn quickly and absorb new information and skills that can change their lives if they get access to exciting learning experiences. The gamification of learning increases their engagement for a wide variety of learning styles[v]. As the market for game-based learning tools spreads, African game developers should also tap into this industry by working hand to hand with educators to design more educational games adapted for African students. If sub-Saharan Africa is able to take this advantage, and provide adequate education and jobs, $500 billion could be added to its economies for 30 years[vi].
Written by Christian Elongué, Instructional Designer.
You can hear more about Gaming at the eLearning Africa Conference taking place from September 26 – 28, in Kigali, Rwanda.
[i] Marc Prensky, « Digital natives, digital immigrants part 1 », On the horizon, vol. 9 / 5, 2001, p. 1–6, p. 1.
[ii] Kara Mangold, « Educating a new generation: Teaching baby boomer faculty about millennial students », Nurse Educator, vol. 32 / 1, 2007, p. 21–23.
[iii] Phil Hoad, « Meet the new gaming talent rising up from Ghana to Cameroon », [En ligne : https://amaphiko.redbull.com/en/magazine/africa-s-got-game]. Consulté le22 mars 2018.
[iv] Cédric Christian Ngnaousi Elongué, Design and Evaluation of Serious Game for health training in Ghana, Master of Professional Studies, Lilles University of Science and Technology, 2018, 76 p.
[v] Alice Y. Kolb et David A. Kolb, « Learning styles and learning spaces: Enhancing experiential learning in higher education », Academy of management learning & education, vol. 4 / 2, 2005, p. 193–212, p. 13.
[vi] Joe Myers, « The world's 10 youngest populations are all in Africa », [En ligne : https://www.weforum.org/agenda/2016/05/the-world-s-10-youngest-countries-are-all-in-africa/]. Consulté le18 avril 2018.