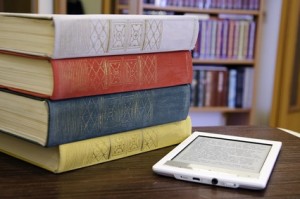 Egypt is justly famed for its ancient centres of learning. Cairo's Al-Azhar University, founded over a thousand years ago, maintains its pre-eminence as the country's most venerable degree-granting institution, and the legendary library of Alexandria, whose establishment predated Al-Azhar's by more than a millennium, was reputedly one of the largest and most significant in the ancient world.
By Alasdair MacKinnon
Now, knowledge in Egypt is to be given a 21st-century update with the founding of the Egyptian Knowledge Bank: a digital library freely accessible to all Egyptians that is to contain many of the world's most important resources for scientists, scholars, researchers, teachers, and students. The step forward is revolutionary, perhaps, but it is one not without parallel in Egyptian history.
According to the Daily News Egypt, this library will be the largest of its kind in the world.
The Knowledge Bank will contain material from over 26 world-renowned publishing houses, including encyclopaedias, books and periodicals, educational syllabi, audio/video/image libraries, and software. It aims to attract interest across Egyptian society, from schoolchildren to scientific researchers and "promote teaching methods for teachers and develop ways to attract students to learn", according to a statement by the State Information Service.
Agreements with publishers were drawn up on November 11th by upcoming eLearning Africa 2016 keynote speaker Tarek Shawki, dean of the School of Sciences and Engineering at the American University in Cairo (AUC), and the initiative was formally launched by President Fattah Al-Sisi on November 14th.
"Our goal," Shawki explained on the AUC website, "is to provide all Egyptians with access to world-class publications, like Nature and Encyclopaedia Britannica. By providing these materials free of charge, the knowledge bank ensures that all Egyptians, no matter what their economic circumstances, will have the tools they need to excel in their education and research."
The resource will be available online via both computers and smartphones – the latter a key platform in a country where usage is booming, with 18.2 million users and counting. Internet penetration is also rising rapidly in the Nile state, hitting 54.6% last year. That's 48.3 million people who potentially have access to the Knowledge Bank.
There are other barriers to access that need to be overcome, however. Probably the greatest is language. English and other European languages dominate international scientific publications, and there is notorious scarcity of quality original content or translations in Arabic. Though the majority of the library's content will be in English, part will be in Arabic, and to help make up the gap, a service will be set up to work on translation projects based on the users' needs.
According to reports, President Sisi considers the project a revolution in the knowledge domain. Speaking at the official launch, he stressed that education dedicated to increasing cultural awareness and countering false information and rhetoric is a key element in the battle against terrorism and extremism.
"Strengthening education and research is crucial to our country's future and an important step towards building an Egyptian learning society," Dean Shawki said.
The Egyptian Knowledge Bank will open to the public in January 2016.
The eLearning Africa Conference, now in its eleventh edition, is visiting Egypt for the first time in 2016. Tarek Shawki, Secretary-General of Presidential Specialized Councils in Egypt, will be among this year's keynote speakers. To find out more visit: www.elearning-africa.com