On the 15th September this year, a young Englishman set out on a sponsored bicycle ride with some friends to raise money for a school thousands of miles away in Namibia. It was started by his aunt and eLearning Africa hears the remarkable story of her love for a German missionary and how their joint passion, now shared by their whole family, is making an impressive contribution to education in southern Africa.
In 1991, shortly after Namibia gained its independence from South Africa in 1990, Gillian and Reiner Stommel opened a school in Otjikondo, Namibia. Almost 30 years later, the primary school (for ages 6-14) is recognised as one of the best in the region.
The Anglo-German couple's project began almost a quarter century before. In 1968 Gillian, daughter of Lord and Lady Steel, went to South Africa as a 21 year old. She was well-off, college educated and, in some ways, a typical British lady. Reiner was a 35 year old catholic missionary from a simple German village, who was stationed in Namibia at the time. Gillian was on holiday, visiting some friends in the area, when the chance meeting happened. Reiner blushingly claimed to be a hairdresser before he confessed that he was actually a man of the cloth. They were far from home, and probably looking for something other than one another but they fell in love. Their story is charmingly told by Michael Schnurr in his account of their love story, Namibia Calling.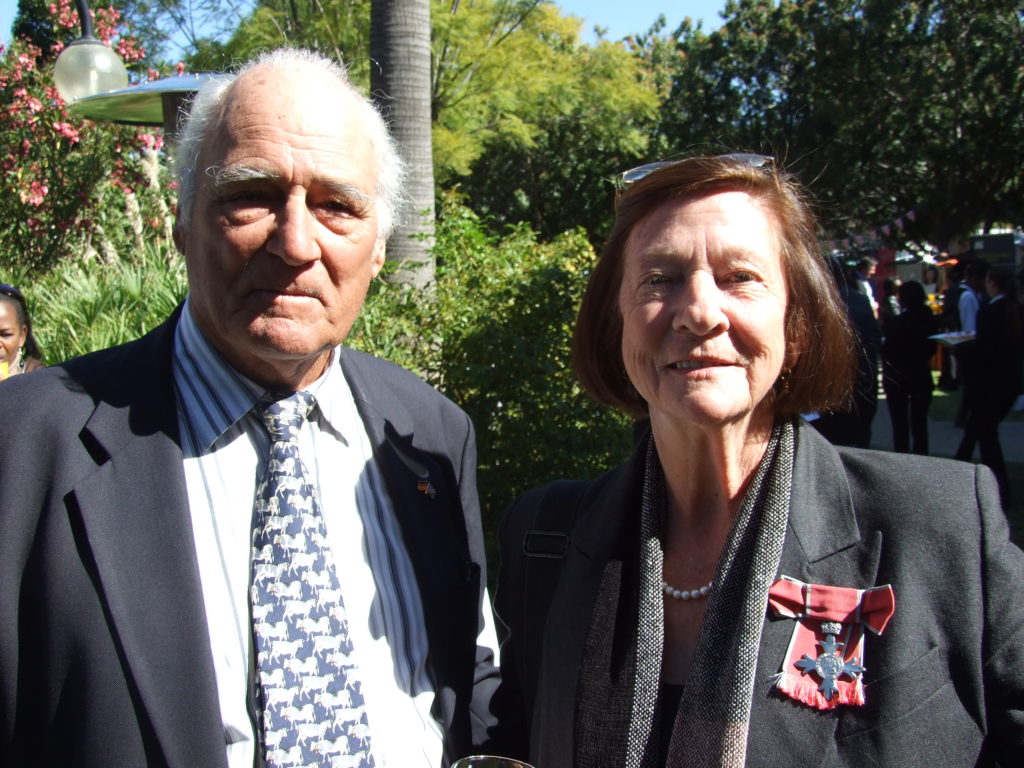 Neither the Steel family's social status nor the Catholic church's insistence on celibacy were enough to stop their love blossoming and, before long, they married and settled in Namibia, where they have spent their lives together and fulfilled their joint dream of creating the Otjikondo School Village. In 1989 they used their savings to buy a vast chunk of land, which now extends to over 200,000 acres, in the Kunene region in North-West Namibia. Two years later the first local children began their schooling.
Today, the Otjikondo School has around 240 students and provides some of the best teaching in the region for grades one to seven. Gillian Stommel still takes care of much of the day to day management.
The school village is made up of around 20 buildings, including classrooms, a dining hall and kitchen; accommodation for students, teachers, staff and international helpers (often students on their 'gap' year); as well as workshops and a sick bay. They're all connected by the schoolyard and playgrounds. The main part of the Stommels' land is a large cattle farm and the village school lies at its heart. In addition, there's the Church of the Holy Cross, which was designed by Reiner Stommel himself. Its windows were decorated with biblical motifs designed by children from the village school. Every Sunday there is an interdenominational service.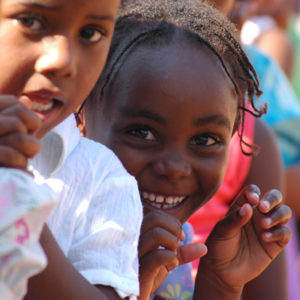 The children in Otjikondo come from all over Namibia and from many different ethnic and linguistic backgrounds. Many of them come from simple and, unfortunately, also sometimes challenging social environments. So the Otjikondo School is understandably and deservedly proud of its achievements, not only socially, but also, in particular, with respect to Maths and English. The students' achievements are reflected in their 7th grade final exams, the results of which are impressive, especially since most pupils have received no prior schooling and speak little to no English before they enter first grade. As English became the sole official language of Namibia after independence and as it is, therefore, the basis for Higher Education in the country, speaking it is a key skill.
"A single step forward", based of Laozi's 4th century BC edict that 'a journey of a thousand miles starts with a single step forward', is the school's motto. Over the years, everyone who has worked and studied at the Otjikondo School has contributed to its many great leaps forward (to borrow another, rather later, Chinese expression). Gillian is the recipient of an MBE from HM Queen Elizabeth II, and Reiner is the recipient of the German Federal Cross of Merit. Both are glad to share the glory of their honours with everyone involved.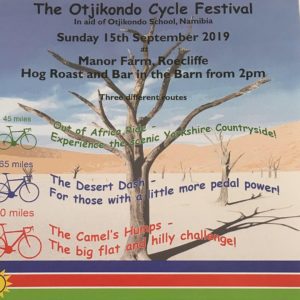 This year, members of Gillian's remarkable family and their friends organised a sponsored cycling tour through the beautiful Yorkshire Dales in the North of England to support the Otjikondo Village School. They set out from Manor Farm, Roecliffe on a gruelling journey to raise money for new equipment and facilities at the school village. The event was organised by David Steel, Gillian's nephew and his wife, Georgie.
David has fond memories of Otjikondo. "The first time I went was when they opened in 1991. I can't wait to take the kids when they're a little older. We even went there back in 2003 for our honeymoon."
David and dozens of others took to their bicycles on September 15th, determined to raise thousands of pounds for the Ojtikondo School. "Cycling has gone mad in Yorkshire," he explained.
Depending on their fitness levels, participants could complete either a 45 mile 'Out of Africa Ride,' a 65 mile 'Desert Dash' route or 'The Camel's Humps,' totaling around 100 miles in length. Their efforts are greatly appreciated.
Otjikondo has bills to pay and lots of ambition for exciting projects for the next generation of pupils. The village and school are dependent on donations. If you'd like to help by supporting the school with a contribution, please visit the Otjikondo website here: http://otjikondo.com/59.0.html.