Along with the other arid and semi-arid lands, Turkana county has one of the lowest indicators of economic and social development in Kenya, with youth and women being the most affected. Across the county, youth not only face structural barriers to work but also deal with social and cultural blocks. This equally affects women and newly-arrived refugees. The key barriers hindering the absorption of youth and other vulnerable groups into the local labour market include low and unmatched skills uptake and limited access to financial services brought about by language barriers, lack of credit history and low literacy levels. Consequently, addressing these barriers is critical in easing the social integration of young people into the wider community and assisting them to transition into and navigate the labour market. Turkana county has an estimated population of 1,427,797 people with youth aged between 15 and 29 years accounting for about 31.78%. It holds the Kakuma Refugee Camp and Kalobeyei Integrated Settlement which are home to approximately 185,449 registered refugees and asylum-seekers comprising 21 nationalities.
The Promoting Life Skills and Livelihoods project commonly referred to as Skills 4 Life, is a Swiss Agency for Development Cooperation (SDC) funded project that has been implemented by Swisscontact since 2013. It is currently in its second implementation phase which closes in June 2019 and targets both members of the host community and refugees living in the Kakuma Refugee Camp and Kalobeyei Integrated Settlement. The project aims to strengthen the income generating capabilities of 2,500 youth aged between 16 and 25 years by enhancing their access to technical, financial, life, literacy and numeracy training skills using both conventional and digital mediums for improved livelihoods.
a-ACADEMY Basic Skills digital portal was created by Avallain Foundation who partnered with Swisscontact to test the effectiveness of the platform in the provision of literacy and numeracy training as a key skill among the project beneficiaries in the 21st century.  The pilot phase took place between April and December 2017 and involved the implementation of a digital learning solution that could be accessed in any blended learning setting. The online portal consists of two distinct sections; one for literacy and the other for numeracy. The platforms are packed with engaging and interactive activities that encompass various multimedia elements like a localized curriculum, local currency visuals, local food and locations, animations and other carefully curated and tailormade images and audios that are familiar to the learners.
Literacy and Numeracy as a Strategy for Social Inclusion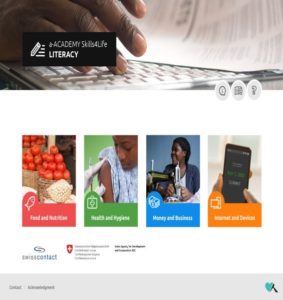 The a-ACADEMY Basic Skills digital portal is adapted to the learning conditions of both host and refugee communities. It applies a pedagogical approach and uses storytelling as an element of adult literacy training. This enables the learners to make use of their already existing knowledge as a learning tool transferable to their various life situations.
It is currently estimated that the literacy levels among the adult population in Turkana County is as low as 20%. This has contributed to the exclusion of the host community from the labour market thus increasing household vulnerability. Low education levels, language barriers and limited opportunities also cripple the social-economic integration of the refugee communities. It is a notion that individuals with literacy skills tend to be confident and are more likely to have good health, better jobs and higher wages than those with poor literacy skills.
The Skills 4 Life Project integrated ICT to support the acquisition of skills and information exchange as part of the project's broader blended learning strategy. The a-ACADEMY Basic Skills platform has been met with enthusiasm by both the host and the refugee communities with learners demonstrating preference to digital learning than the conventional methods. "When the beneficiaries were using the a-ACADEMY platform, learning was fast and simple unlike the conventional chalkboard process. Even beginners understood the content easily as the platform utilized audio-visual tools that enhanced easy recall. For instance, when a beneficiary was learning about fruits, he would listen to the pronunciation, note the spelling and relate it to the image of the fruit on screen. This made it easy to remember" explained Rose Chelia, a Skills 4 Life literacy and numeracy trainer.
It is apparent that the a-ACADEMY ICT learning model has the potential to support and fast-track the social inclusion of the marginalized host community members and refugee groups into the broader Kenyan community. This is reaffirmed by Musembwa Hamisi Jacques, a 29-year-old Congolese, who got employed two months after completing the literacy classes as a Field Assistant with the Solidarity and Advocacy with Vulnerable Individuals in Crisis (SAVIC), a refugee-led Non-Governmental Organization operating in the Camp. "When I enrolled in the class, I could barely speak in English. With the teachers and the digital lessons, learning became fun, real and engaging. I gained the relevant skills and was even able to get a decent job. I can now confidently interact and talk with other nationalities in the camp which has made my life easy."
The a-ACADEMY ICT Platform
Virtual learning helps to circumvent challenges such as long distances, limited learning spaces, teacher shortages, large classrooms, lack of learning resources and high rates of teacher turnover. The digital interactive learning content developed for the youth in Kakuma and targeting the host and refugees is based on the Kenya Adult Literacy and Numeracy Curriculum and includes content on financial literacy tailored to the context of Kakuma. The digital learning programme utilises existing technology, which can easily be customized and adapted to different contexts, occupations and levels of education.
The a-ACADEMY platform, whose content and design aims to cater to the core need for numeracy and literacy training and provide for the different levels of knowledge for the project beneficiaries, contains flexible training alternatives. It works both online and offline and can be accessed from different devices such as tablets, laptops and mobile phones. It also includes a self-assessment mark book where learners can track their progress.
Additionally, the content is adaptive to the pace and learning needs of individual learners and accords them the opportunity to acquire literacy and numeracy skills at their own pace via blended-learning sessions in Learning Groups and via self-study materials. Avallain Foundation used existing curriculums and other existing adult literacy materials, including the approved Kenyan Adult Basic Education and Training (ABET 1), to guide the scope and sequence of concepts that were included in the modules.
Testimonial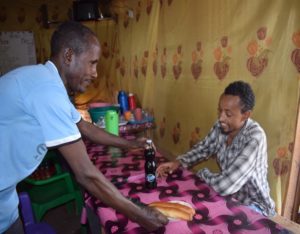 Six years ago, 42-year-old Abbas Habib Adam fled Ethiopia with his family to seek refuge in Kenya.  Having only undergone primary education, taught in Amharic and Oromia, settling in Kakuma refugee camp was a very challenging experience for him. His inability to speak in English or Swahili made it difficult not only to interact with other nationalities in the camp, but also to engage in productive activities.
Habib, who currently lives and runs a small eatery in Kakuma II centre heard of a three-month literacy and numeracy session taking place at Fuji Primary School and hurriedly enrolled.  "Attending that class is one of the best decisions I ever made as it greatly improved my communication skills. I can now talk to my customers with confidence which has improved my business. Using the laptops to learn about nutrition and numbers was enjoyable. I now know how to put on and shut down a laptop. I am hoping to save enough money to get my own computer soon," said Habib.
Initially, Habib had enrolled for a six-month literacy program at a local adult education institution but dropped out because of the distance and fixed learning schedule. "Unlike the previous program, the a-ACADEMY Basic Skills program was short, flexible and incorporated digital learning. The class was small enough for the teacher to have one-on-one sessions with each student.''