Alison, the world's largest free online empowerment platform is returning to eLearning Africa, after a successful partnership last year in Rwanda. Alison's CEO and Founder, Mike Feerick, has pioneered many developments in online learning, establishing that it is possible to make education available to everyone, everywhere with no cost to learners.
Transforming Lives in Africa
In 2022, the first year of Alison's partnership with eLearning Africa, Mike spent a month touring Kenya, Uganda, Tanzania and Rwanda, meeting hundreds of Alison graduates and hearing first-hand accounts of the difference that free certified courses are making to their lives. Out of the various testimonials, Celestin Nsengiyumva says his career is benefiting from a skills' boost, student leader Theos Niyogushimwa recommends Alison to other students and Jean Bosco Nshimiyimana declares "Alison has helped me achieve my goals". To date, Alison has empowered over 7 million African learners through a wide range of free courses and professional career building tools.
Alison's Free Resources
The drive to continue pioneering new ways of supporting learners, whoever and wherever they are, has seen the website launch many resources beyond its certified Course Collections. The extensive Career Guide is packed with useful information to help learners explore careers they are interested in and chart their next steps. The past year has seen Alison launch its free Resumé Builder, helping thousands of job seekers create a professional, industry-standard CV. Another new addition to the website is the Public Profile which allows learners to showcase their skills and qualifications to recruiters worldwide.
There are free psychometric tests to help Alison users as well. The Workplace Personality Assessment is a popular tool for those who value insights and want to discover their professional strengths and weaknesses, while the Wellbeing Assessment can help those who want to safeguard their mental health.
For schools, businesses and other organisations who want to use the platform for group learning, Alison has launched the world's first free Learning Management System this year. Teachers or employers can avail of group training, upskill their teams, and easily track their learners' progress.
Alison's community of students can also earn through the Affiliate Programme, in which they are rewarded for spreading the word about Alison.
Finally, the site has undergone a redesign over the past year, making it even easier to navigate. The modern, user-friendly interface has brought many more learners to the platform, surpassing the 30 million milestone and graduating over 6 million learners this year.
Alison offers a choice of more than 4,500 free online courses, covering everything from academic subjects and the arts to practical skills training – in anything from carpentry to cooking. While the company is based in Ireland, its course creators come from all over the world and experts are encouraged and supported to create their own courses.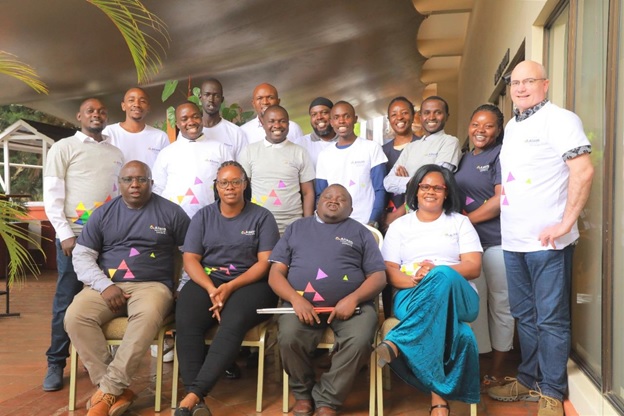 Inspired by Learners
Mike Feerick (With graduates from Kenya) is looking forward to meeting more policy makers, educators and learners at #eLA23. He returned from last year's conference inspired by the many Alison graduates who have overcome major challenges and achieved personal goals, whether they were in a prosperous, highly developed city, or a rural area with limited resources. developed city, or a rural area with limited resources.
"Our graduates are using the skills they learn for free with Alison in a variety of industries, particularly hospitality, horticulture and agriculture. Many graduates are middle management – completing free courses on supervision, HR and project management. Meeting our users in person is always very encouraging and reignites our passion to keep improving," added Feerick.
Conference-goers in Senegal will hear about the freedom and flexibility of learning with Alison. The empowerment platform's courses range from short certificate and micro-credentials to longer diploma courses, all accredited by the independent UK body CPD. Learners can download the app and continue studying on their phone, wherever and whenever they like. There are assessments at the end of each course and on successful completion, graduates can opt to pay a small fee for a digital or physical copy of their certificate. There is also an option to download a free learner's report, which indicates that they have completed the course and acts as a proof of their certified skills.
"I am excited about eLearning Africa and building new relationships across the continent," said Feerick. "People are always amazed that we are offering such high quality courses for nothing but the huge growth in users in the past couple of years shows that we are actually making a difference and opening up education and skills training to absolutely everyone, whoever and wherever they are."
If you'd like to learn with Alison, simply sign up for your free account at www.alison.com and select the course you want to begin with. It's that easy! You can also download the app to keep learning on the move.
You can follow Alison on Facebook, LinkedIn, Twitter, Instagram, TikTok and the Alison Blog for updates.
Testimonials
Read more about Mike's encounters in Africa