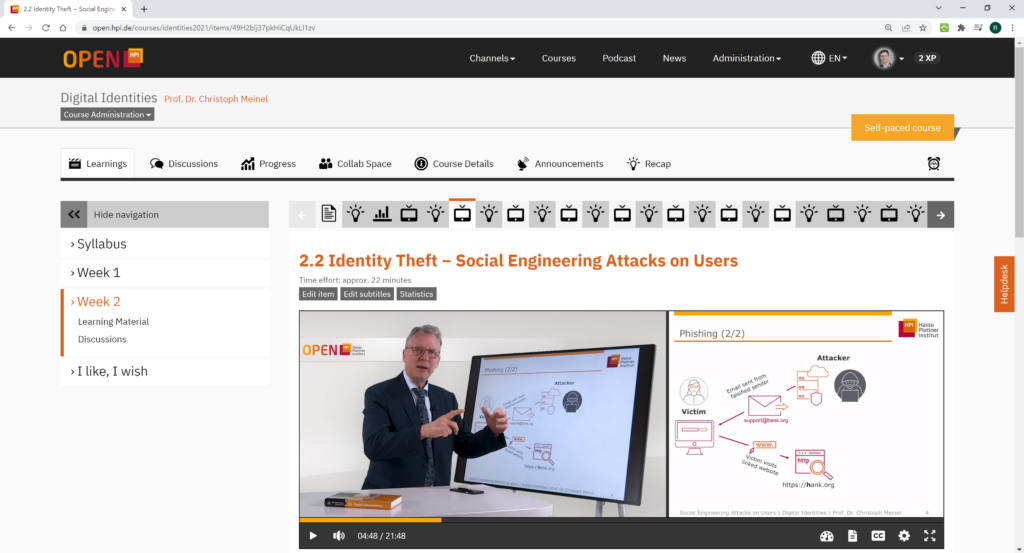 The Hasso Plattner Institute operates the interactive online learning platform openHPI. On this platform, the latest university knowledge in the fields of IT and innovation is offered to beginners and experts for free in Massive Open Online Courses (MOOCs for short).
In addition, openHPI conducts research on digital technologies for innovative educational approaches.
openHPI: Free Knowledge on IT and Innovation Topics
One of the revolutionary achievements of digitisation is the ability to make knowledge globally available. HPI recognized this potential early on and has been providing knowledge free of charge on IT and innovation topics at https://open.hpi.de since 2012. The courses, in English and German, and with multilingual subtitles, are led by professors or students and partners. The platform now has more than one million course registrations from learners in over 180 countries.
The broad range of MOOC courses is aimed at interested parties of all ages who want to better understand and help shape the digital world and the innovations that are a part of it. Offerings are aimed at young people, IT beginners and experts. The multi-award-winning education platform is particularly popular with professionals who want to keep up to date on new digital technology developments or gain further qualifications. Participants can learn flexibly in terms of time and location, and yet they are not alone. During a course, thousands of openHPI participants negotiate the learning content in a flexible manner as they watch instructional videos, complete self-tests, do homework and prove themselves in exams. Everyone is networked via a discussion forum where learners can exchange ideas, ask questions, and encourage and support each other. The interaction in the forums creates the virtual learning communities that are so important for learning success, and are what promote exchange and collaborative learning.
Those who want to watch the course video lessons on the go can use the openHPI app for Android mobile devices, iPhones or iPad – even if no Internet connection is guaranteed. HPI awards various certificates for successfully completed online courses. Students can even earn ECTS points to apply toward their university credits.
The cloud platform developed at HPI for openHPI is also used by partners. For example, the World Health Organization (WHO) used OpenWHO to train millions of employees around the world during the Corona pandemic. With openSAP, SAP was the first company to take advantage of its own MOOC platform to train and educate interested parties and employees.
For more information about the courses offered on openHPI, please visit: https://open.hpi.de/
MOOC Research – Learning Analytics at Scale
In addition to offering MOOCs, HPI also conducts research on the topic of MOOCs and innovative educational approaches and publishes it on an ongoing basis. One of the research topics of openHPI is Learning Analytics (LA) at scale.
The MOCC format offers some important advantages over traditional teaching – namely that content can be provided globally and cost-effectively to thousands of learners. At the same time, the individual attention that traditional learning can provide is limited. Nevertheless, the MOOC learning experience has proven itself to be one of great success.
LA measures, collects, analyzes, and evaluates learning data to understand learning processes and establish mechanisms, such as learning analytics dashboards for learners and instructors or to provide learning objectives and progress mapping which in turn, optimize learning processes. With the results from this research and the implementation of appropriate measures, learner motivation and openHPI completion rates could be further increased.