A second session of the MOOC "Basics in Epidemiology of Animal and Zoonotic Diseases" in French and English will take place from November 4th to December 13th, 2019 on the FUN Platform.
This is a free online training course of 6 consecutive weeks, requiring approximately 4 hours of work per week, consisting of 6 chapters with more than 30 videos and additional resources, which are available online and downloadable.
This training is more specifically addressed to any professional working in the field of animal health, but is also open to the general public. The MOOC will be closed the 31st of January 2020.
Registrations are opened online on FUN.
To register on the FUN Platform click here, or go to FUN Platform and search the course by the keyword epidemiologie.
This MOOC (massive open online course) is carried out by CIRAD, UMR ASTRE with the collaboration of France Vétérinaire International, ENVA, ENVT, ANSES and Agreenium.
A certificate of success is issued by FUN at the end of the training.
Specific partnerships with veterinary schools, universities, institutions or veterinary services or staff associations are possible through the signature of an agreement with CIRAD. Certificates attesting 40 hours of training in "Epidemiology of Animal and Zoonotic Diseases" will then be issued free of charge to those who have successfully completed the MOOC. Contact us at mooc.epi@cirad.fr if you are an interested vet institution or training organization.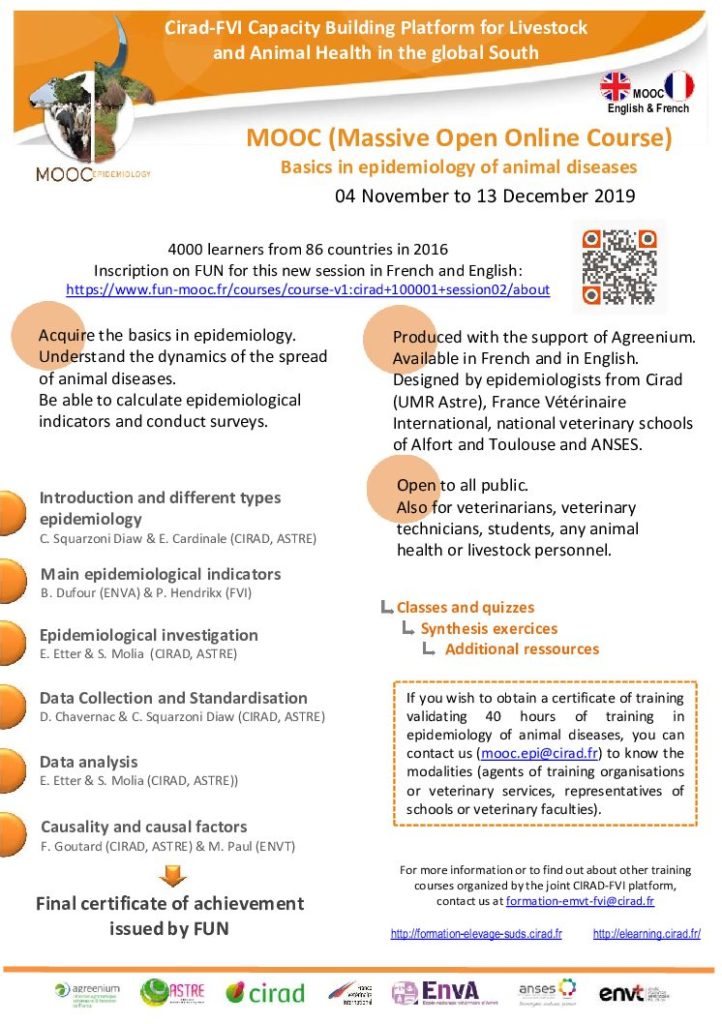 Download the flyer on the website.
Coordinators of the MOOC:
Cécile Squarzoni Diaw  – epidemiologist vet – Cirad
cecile.squarzonidiaw@cirad.fr
Pascal Hendrikx – epidemiologist vet – FVI
pascal.hendrikx@cirad.fr