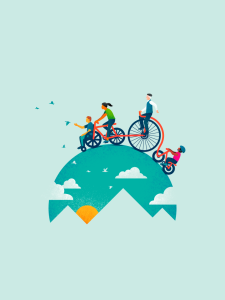 Learning isn't a destination that can be reached or departed via the classroom door. It's a never-ending road of discovery, challenge, inspiration, and wonder.
For many people, learning is the route to a job to support their family, or to the skills that will help them progress in their career. For others, it's simply a passion for exploration.
Whether it's at home, in the classroom, or at the workplace, learning is the key to improving our life chances. To this end, Pearson provides a blend of content, curricula, assessment, training and information systems to make learning more engaging and effective.
Technology underpins everything we do, from the latest resources for personalised learning to data analysis tools to measure progress and aid teaching. By putting technology at the heart of learning, we aim to support, motivate and inspire every educator and every learner.
In today's world, education isn't a passive act of gaining information or qualifications. It's an endless process that promotes the evolution of the love of learning, a love that strengthens learners' resolve and helps them create opportunities throughout their lives.
And this is of major importance because wherever a love of learning flourishes, so do people.
We're the world's learning company, with expertise in educational courseware and assessment, and a range of teaching and learning services powered by technology. Our products and services are used by millions of teachers and learners around the world every day.
Our mission is to help people make progress in their lives through learning — because we believe that learning opens up opportunities, creating fulfilling careers and better lives.
Our 35,000 employees across 70 countries worldwide share a simple set of values. In everything we do, we aspire to be brave, imaginative, decent, and accountabl
We work closely with teachers, learners, researchers, authors, thought leaders, and local experts to put education in the hands of more people around the world – in more inspiring ways.
Co-Written by Kathy Paraskeva
eLearning Africa 2018
The eLearning Africa 2018 conference will be hosted Kigali, Rwanda on 26th – 28th September.