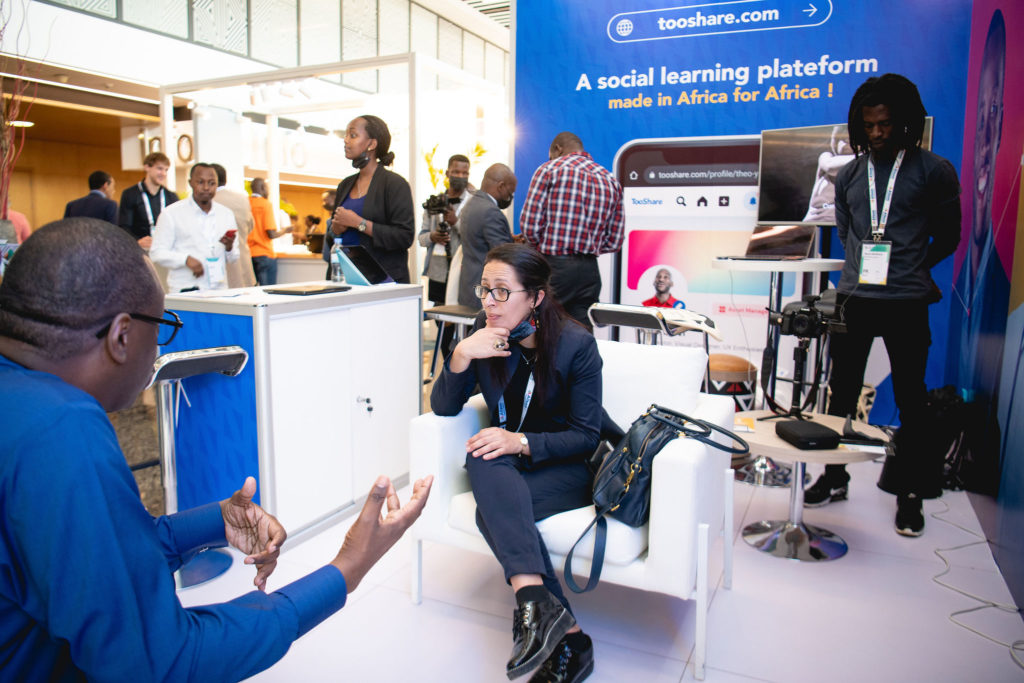 TooShare is the first social learning platform created in Africa. In partnership with the STUDY ACCESS ALLIANCE and IU International University of Applied Sciences, we are launching, during the eLearning Africa Summit 2022 in Kigali, a vast graduate scholarship program of One (1) Billion US$ funded by the IU Group and TooShare partners to all African
countries to promote access to higher education in tech subjects with great employability.
"We are delighted to partner with TooShare to jointly provide access to high quality university education to students across Africa. TooShare's virtual classrooms for the students offer them the opportunity to connect, learn from each other, and gain the skills employers are looking for in candidates. We invite other partners to join us in making an impact on future students as well as African economies" – Ms. Laura Bake, Director of the Study Access Alliance
Access to higher education in Africa is facing a growing gap between supply and demand. Only ~9% of the population is enrolled in higher education, about 4 times less than the world average. At the same time, the demand for higher education is much higher than the available places. With the demand for well-trained people, especially in the technology sector, high and expected to grow even more in the coming years, the need for higher education with a strong focus on labor market-relevant skills is critical to the employment of students and employers looking for talent.
"IU initiated the Study Access Alliance because we strongly believe that everybody should be able to access education to grow. The Study Access Alliance in partnership with TooShare will game change access to high-quality university education and skills development – and I hope to see many partners on board who want this change as much as we do" – Prof. Dr. Holger Sommerfeldt, Rector, IU International University of Applied Sciences
TooShare and the Study Access Alliance have partnered to offer full scholarships for university degrees from IU International University of Applied Sciences in technology and management subjects to African students who do not have access to funding for higher education that meets international standards. These students will have access to high-quality online degrees (Bachelor's, Master's, and MBA) at Germany's largest, state-accredited university through
the Study Access Alliance. They will also have access to a learning community and additional content on the TooShare platform to support them during their studies by preparing them for the job market.

"The One Million African Talents program that we are launching in its first phase with our partner the Study Access Alliance and IU International University of Applied Sciences – one of the world's leading, German state-accredited universities with the world's largest online degree portfolio – marks a major turning point in the edtech sector in Africa. Maintaining a high level of quality in our digital education is a key objective of our educational platform. Our association with this initiative is therefore primarily aimed at all those young African talents for whom we facilitate access to education and a better future" – Mr Abdoulaye Mbengue, Founder and CEO of TooShare
TooShare and the Study Access Alliance further plan to work closely with national and international stakeholders to jointly select and support students in their skills development. The partnership will also focus on engaging potential employers to connect students to the job market. A pilot project will be launched in June that will provide 10,000 scholarships to talented young people from Senegal, Rwanda, Ghana, South Africa, and Morocco. Interested candidates can already register on the TooShare platform at https://saa.tooshare.com to join the pre-selection program
About the Study Share Alliance

The Study Access Alliance is a non-profit organization ("gemeinnützige GmbH" in German) founded in 2022. It was initiated by IU International University of Applied Sciences with the aim of making university education accessible for everyone, especially those who would otherwise not be financially able to study. The goal of the organization is to build partnerships to provide scholarships to people in African countries who would otherwise not be financially able to study. The partnership with TooShare is one of the Study Access Alliance's pilot projects. The program currently offers degrees from IU International University of Applied Sciences and aims to partner with further universities in the future.
About IU International University of Applied Sciences

With almost 100,000 students, IU is the largest university in Germany and the fastest growing university in Europe. The state-accredited university offers the broadest degree portfolio globally and covers various subjects including many degrees in high demand areas like artificial intelligence, computer science, cybersecurity, data science, digital business,
management, etc. IU cooperates with more than 10,000 enterprises and actively supports them in their people development. IU is disrupting higher education by providing the most scalable high-quality degree education leveraging the largest integrated educational degree platform. Thereby IU aims to fulfill its vision that everybody can access education to grow. Already today, IU is tearing down entry barriers to higher education around the globe : 70% of its students come from non-academic households.
About TooShare
TooShare, a new concept between digital learning platform and social network whose objective is to allow the sharing of knowledge and to link learners and trainers. It is the first African brand in the Digital Learning sector. TooShare relies on the best technologies and software infrastructures to propel a robust, flexible and secure ecosystem. Through its platform and mobile application, it will facilitate and enhance the lives of individuals by opening the world of possibilities to millions of Africans.
Practical information on the Partnership & Application Process: https://saa.tooshare.com/
For more information about the partnership and the application process, visit www.tooshare.com or contact Maguette Mbow, TooShare Executive Board, at saa@tooshare.com
For more information about the Study Access Alliance, visit www.study-access-alliance.org or contact Laura Bake, Director of the Study Access Alliance, at laura.bake@study-access-alliance.org