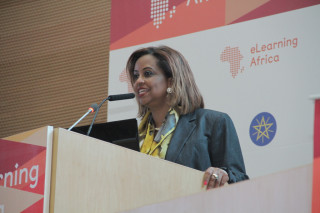 "Innovation is in our DNA," Ethiopian business woman Eleni Gabre‐Madhin told African Business Magazine when asked about her company eleni LLC's ambitious plans to create "big, bold, beautiful" markets that will improve the livelihoods of millions of small farmers and traders throughout Africa.
Looking at her track record, one has no reason to doubt this will become a reality. Gabre‐Madhin is responsible for leading the development of the Ethiopia Commodity Exchange (ECX), which revolutionised Ethiopia's commodity market. Established in 2008, after just three years it was successfully trading $1.2 billion annually and some 2.4 million farmers were benefitting from the model that aims to make commodity trading more transparent, efficient and reliable – a model that is now recognised globally as a unique African success.
"Without organised markets – how people trade – they can't negotiate market prices or know what prices are elsewhere. This is the world we are trying to change," says Gabre‐Madhin, who will be a keynote speaker at eLearning Africa 2015.
eleni LLC aims to deliver exchange turnkey projects on a Private-­Public Partnership (PPP) using "holistic operational scope and appropriate technology," as well as tailoring commodity exchange models to the needs and capacities of local markets.
Looking at the ECX, for instance, in Ethiopia where telecommunications are strained in rural areas, it offers a service allowing farmers to call a number and hear automated messages relaying up-to-date trading information in different languages. Gabre‐Madhin believes that rolling out custom-fitted exchanges throughout Africa will help alleviate poverty across the continent.
At eLearning Africa, Gabre‐Madhin will be addressing the role of technology – as well as the relationship between people and technology – in the commodities market and the wider sphere of innovation and development. For instance, new technology has allowed small farmers and traders to access the global market arena, while facilitating training and knowledge exchange.
"In each step there's so much technology that really makes this come alive," she says. "It allows people to access information at their fingertips on mobile. As a farmer, you can look at the local coffee prices and make contact with somebody on the other side of the country."
Her company is responsible for building the technology. They focus not only on mobile-friendly services but, for those without mobile, ensure payment system information, prices and other services are available on the telephone.
Since beginning her entrepreneurial journey Gabre‐Madhin has always put the needs of the people first. On the eleni LLC website it states: "To us, innovation means love and respect for the people behind the markets and behind the economies that we seek to transform." In regard to technology, she says, this is an important point to consider.
"Technology is only the language of the business," she says. "There needs to be a link back to the people because people are the drivers all of this. Interaction between people and technology is a space where learning matters a lot."
A winner of countless accolades for her contribution to agricultural commodity markets and African development, we look forward to hearing more from Eleni Gabre‐Madhin at eLearning Africa 2015 on May 21, at the African Union Headquarters Addis Ababa Ethiopia.