By Dr Corinne Brion
Lindsey et al. (2018) define culture as "everything you believe and everything you do that enables you to identify with people who are like you and that distinguishes you from people who differ from you (p.29). Because learning is a social endeavor and cultures affect how we interact and learn, our culture affects learning transfer. Additionally, because everyone brings his/her culture to work, these diverse cultures, worldviews and core values form the organizational culture. This organizational culture affects policies, practices, actions, and behaviors. The organizational culture also impacts how people think and work (Lindsey et al., 2018).
Leaders around the world work with adults from diverse cultures and because culture affects learning, school leaders need to provide professional learning (PL) that takes into consideration how culture affects the planning, delivery, and follow up in order to optimize learning and its implementation. In this way, it is essential for school leaders to understand the role culture plays in PL. School leaders should provide professional learning experiences for teachers that take into consideration culture so that they are able to serve students equitably and collaborate with peers and families who identify with various cultural identities. Because the literature is scant on the impact of culture on PL and learning transfer, I propose a culturally grounded professional learning framework. The Culturally Proficient Professional Learning (CPPL) framework includes a Multidimensional Model of Learning Transfer (MMLT) that aims to enhance the implementation of newly acquired knowledge. This framework and its rubric aim to be practical tool that school leaders can use to organize, plan, deliver, and evaluate their PL events.
Culturally Proficient Professional Learning (CPPL)
PL is at the center of the practice of improvement because it develops teachers and leaders' skills and abilities in order to impact student academic achievement. The National Staff Development Council recommends that principals devote 10% of the school budget and 25% of teacher time to PL (Kelleher, 2003). While PL requires time, it is crucial that the time be organized, carefully structured, and purposefully led to avoid the waste of human and financial resources. Too often, budgets are spent on PL that yield little results (Hess, 2013). Despite the millions of dollars spent on PL nationally, student learning outcomes continue to stagnate or dwindle, discipline issues continue to skyrocket, and teacher moral plummets (Hess, 2013). This may be due, in part, to leaders paying little attention to culturally proficient PL that accounts for learning transfer.
If culture was embedded before, during, and after PL, teachers will understand what they can do in their classes to become culturally competent and equitable. CPPL and MMLT were designed to promote cultural awareness by respecting participants' cultures when planning, organizing, conducting, and evaluating PL events. In CPPL, leaders understand the role culture plays in our learning because knowledge is a socially constructed process that cannot be divorced from learners' social contexts. Leaders also understand that the ultimate goal of teaching is the implementation of the newly acquired knowledge in order to enhance student learning. The MMLT is an innovative practical model intended to help school leaders organize, deliver, and evaluate their PL while also enhancing learning transfer. This model is salient for all schools and districts and should be of particular interest to school leaders who serve a diverse student and staff population.
Multidimensional Model of Learning Transfer (MMLT)
The MMLT is based on data collected, analyzed, and synthetized over six years in educational institutions in five African nations. For the MMLT I refer to Culture with a capital letter as it includes individual, sectional, departmental, organizational, regional, and national cultures as well as cultures related to a continent. I assert that Culture is the predominant enhancer and inhibitor to transfer and that Culture affects the entire learning transfer phenomenon (Brion, 2020).
MMLT is composed of seven dimensions: Culture, Pretraining, Learner, Facilitator, Material and Content, Context and Environment, and Post-Training (Figure 1). In the MMLT, I propose that culture is the overarching factor that affects all other dimensions of learning transfer. I refer to culture as the individual, sectional, departmental, organizational, classroom culture, regional, and national cultures as well as cultures related to a continent. Ignoring cultural issues in schools present numerous risks including reinforcing stereotypes, increasing intolerance among groups, raising potential misunderstandings, escalating frustrations and defensiveness, as well as learners and facilitators withdrawals. I also believe that pretraining and post-training play a key role in promoting the implementation of knowledge. A description of the MMLT elements is provided below.
Culture
Culture incorporates the differential effects of age, gender, race, ethnicity, social class, religion, sexual orientation, and abilities. School leaders need to become culturally proficient so that they can then teach teachers and students and build a school culture that is inclusive, equitable, and respectful of all cultures represented in their communities (Lindsey et al., 2018).
Pretraining
As Figure 1 indicates, pretraining includes theorientation of facilitators and other key stakeholders so that they can support the professional learning once it has begun. Pretraining also includes communicating expectations to facilitators and learners explaining who will benefit from training, stating that participants are accountable to implement new knowledge and sharing the schedule, goals, and information that is perceived as mandatory. For example, I found that in some African cultures, pretraining plays a key role in the learning transfer process because people in these particular societies prefer knowing in advance and in writing what will happen during the training, how it will be led, and by whom. With these details in mind, leaders and PL organizers can adapt accordingly and enhance the learning transfer process.
Learner
Learners are the participants in the PL events. This dimension refers to understanding the learners' motivation, the cultural background of the facilitators and participants, and how history and social events affect stakeholders, including self, facilitator, peers, and colleagues. The learner category also includes understanding cultural differences in learning styles as well as language and writing differences. Learner is also comprised of the participants' beliefs and attitude toward their job, whether or not they have the freedom to act, and the positive consequences of that application. Finally, it involves the participants' belief of the efficacy of the knowledge and skills learned. In this dimension, leaders and PL organizers would seek to know how the learners learn best, learn about the participants' experiences, and how they intend to use the new information in their context.
Facilitator
Effective facilitators must understand the cultural background of the participants and oneself. It also includes how history and social events affect stakeholders (including self, students, peers, and colleagues). Facilitator also refers to the understanding of language and writing differences, setting goals, and the selection of participants. Leaders and facilitators should examine the biases they may have towards certain groups of people before teaching and gathering materials. Principals should also hire facilitators who have a culturally proficient mindset as to promote learning transfer.
Content and Materials
The PL content uses evidence based, culturally relevant, and contextualized materials. It also uses a pedagogical approach based on andragogy, or how adults learn best (Mezirow, 2000). Material and Content also involves using symbols and meaningful artifacts to cue and help recall. In this dimension, culturally proficient leaders would ensure that the content reflects the participants needs and cultural backgrounds. For example, if the PL event is about communicating with parents and families at school, the principal and facilitators would ensure that participants from different cultural backgrounds share what is or is not appropriate in their cultures and contexts.
Context and Environment
This element comprisesthetraining environment and the work environment (micro and macro cultures within context), sociocultural context, transfer climate, peer contact, and the presence of social networks. It also refers to having enough time to transfer knowledge, the support for action, the resources, the freedom to act, and peer support. Finally, Context and Environment refers to the training incentives: intrinsic incentives such as providing educators with growth opportunities, and extrinsic incentives, such as reward or promotion. For this dimension, leaders and facilitators would consider the organizational culture. Is the school culture conducive to transferring new knowledge?
Follow-up
Post-PL is often overlooked and is necessary to avoid skill decay and relapse. Examples of follow up include tutor-facilitated networks via mobile technology (Brion, 2018), micro-learning using mobile technology, coaching, testimonials, Professional Learning Communities (PLCs) or Community of Practice (COPs), apprenticeships, coaching, and E-coaching (Wang & Wendling, 2001). Trainees' reports and assessing transfer also help to create a culture where learning and its application is valued. For example, follow-up can be done during teacher-based meetings or professional learning communities. It should take into consideration the participants' preferred styles of learning and communicating.
Understanding how the various cultures of PL participants practically impact the dimensions of the MMLT could help leaders and teachers implement new knowledge, improve student learning outcomes and well-being while also supporting a better return on schools' investments.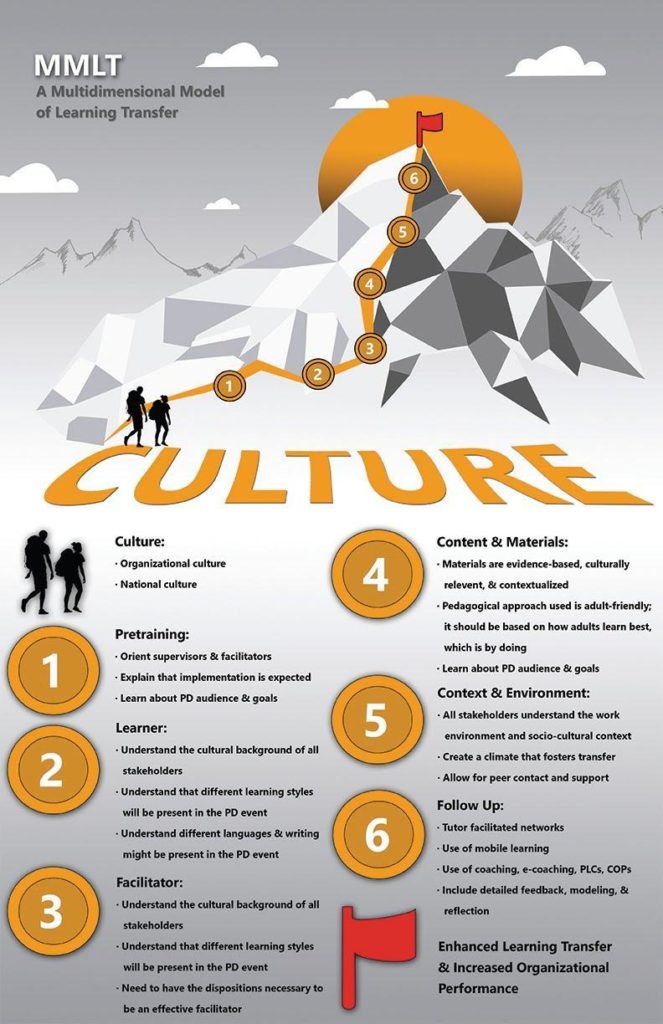 I have two recommendations for practitioners to increase the skills and abilities of adult learners, enhance learning transfer post PL, and get a return on investment that would in turn positively affect students' outcomes. Educators could use these recommendations in their professional learning communities. First, to provide PL that accounts for culture before, during, and after PL events, school leaders should consider using the MMLT and its rubric to organize, prepare, and evaluate their PL offering. This rubric is designed to help practitioners think through the seven dimensions of the MMLT before, during, and after the training. Within each of these dimensions, there are several items practitioners can self-assess. For example, during the pretraining phase, school leaders and PL organizers should reflect on the culture of their participants and how they learn best. This is important because this step affects the content and the delivery of the materials. Leaders should also conduct a needs assessment and offer culturally proficient PL that is relevant and individualized to each teacher's needs. Because learning is a social endeavor, the MMLT and its rubric enable leaders to take culture into consideration for each of the MMLT dimension for maximum learning transfer and impact on student learning.
Second, it is necessary for facilitators to remain flexible and open to learning about different cultures and adjust their practices accordingly without judgment. It is also key that facilitators reflect on the impact their culture has on participants and colleagues in terms of language, history, and traditions. When organizing PL, principals should carefully select the facilitators, brief them on team members, and provide them with the MMLT.
References
Brion, C. (2020). The role of culture in the transfer of training. The International Journal of Training and Development (IJTD), 24(4), 19-32. https://doi.org/10.1111/ijtd.12203
Brion., C. (2018). Keeping the learning going: using mobile technology to enhance learning transfer. Educational Research for Policy and Practice, 1-16.
Hess, F. M. (2013). Cage-busting leadership. Harvard Education Press.
Kelleher, J. (2003). A Model for Assessment-Driven Professional Development. Phi Delta Kappan, 84(10), 751–756. https://doi.org/10.1177/003172170308401008
Lindsey, Randall B., Nuri Robins, K., Terrell, R.D., and Lindsey, D.B. (2018). Cultural Proficiency: A Manual for School Leaders, 4th Ed., Thousand Oaks, CA.: Corwin.
Mezirow, J. (2000). Learning as transformation: Critical perspectives on a theory in progress.
The Jossey-Bass Higher and Adult Education Series. Indianapolis, IN: Jossey-Bass Publishers.
Wang, L., & Wentling, T. L. (2001, March). The relationship between distance coaching and the transfer of training. In Proceedings from the Academy of Human Resource Development Conference. Tulsa, Oklahoma.
Wells, A. S., Fox, L., & Cordova-Cobo, D. (2016, February 9). How Racially Diverse Schools and Classrooms Can Benefit All Students. Retrieved from https://tcf.org/content/report/how-racially-diverse-schools-and-classrooms-can-benefit-all-students/?agreed=1