by Harold Elletson
Every edition of eLearning Africa has its stars. They are the presenters, participants or even exhibitors who strike a chord with the audience, stand out from the crowd or create a buzz of excitement with a new product or service. One of the biggest stars at this year's eLearning Africa in Kigali, without doubt, was Rwandan entrepreneur Clarisse Iribagiza.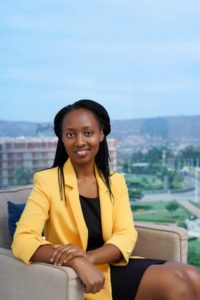 Although there were some big names on the eLA programme, such as Moodle founder Martin Dougiamas and Professor Nii Narku Quaynor, the so-called "father of the African Internet," with her quick wit, high intelligence and easy charm, all of which were displayed to devastating effect during the eLA Debate, Clarisse stood out as one of the stars of this year's conference.
The co-founder and CEO of DMM.HeHe, which uses innovative technologies to enable businesses to offer their products and services on demand to over 2 million customers across Africa, she founded her business in 2010, when she was just 22. At the time, she was still a student at the University of Rwanda's College of Science and she had already completed an incubation programme at the Massachusetts Institute of Technology (MIT).
Clarisse is a perfect example of what makes the younger generation of African entrepreneurs so interesting and exciting for outside investors. Smart, savvy and digitally literate, she has a Master of Business Administration (MBA) degree from the African Leadership University School of Business. She is also a member of the Presidential Youth Advisory Group at the African Development Bank. It is easy to imagine her going places – and fast.
She has a passionate commitment to technology and an instinctive understanding of its importance in Africa's transformation.
"From an early age, I was good at figuring out how things worked, so my friends always brought their gadgets to me instead of reading lengthy manuals," she says. "I found myself teaching them how to use technology and this was the start of what would be my career."
A strong believer in connecting learning to the world of work, Clarisse got the idea for the company she founded while she was a student. "For months I had been working on various projects both in school and outside of school. I then got selected to join an MIT incubation program on entrepreneurship and mobile applications development while I was a junior in college. This was the perfect launch pad for HeHe, a class project that grew into the organization we are today."
Unlike many budding entrepreneurs, she was fortunate in being able to draw on a reservoir of support from friends and contacts – some of them in very surprising places. "I got support from pretty much everyone I reached out to. From university professors who let me do the mandatory internship in my own company to the President himself, who made a modest contribution to the company which went a long way in inspiring many programs we would go on to do."
Clarisse believes in the power of technology to transform the prospects of African workers and she is convinced that it will have a particularly profound effect on the lives of women, helping to make a reality of the African Union's 2063 Vision of a "transformed continent."
"Speaking specifically about digital technology, a lot of the physical barriers in work will be eliminated such as access to talent and information. A young person will be able to work for any organization around the world without ever having to leave their hometown, simply by connecting through the internet. Imagine the impact of this on communities. In fact this is already happening with organizations like Andela and Freelancer.com. I also believe that digital technologies will enable more women to remain in the workforce without having to make tradeoffs between career and family. This for me is one of the most significant impacts of technology on the society."
She sees African's growing population and the continent's increasingly youthful demographic as significant advantages for African economies. "I believe that the the growing population is an opportunity and an asset for the continent, and like any other asset, they need to be managed well. I can only imagine what a healthy, educated and connected African population will contribute to the rest of the world. This population can drive the transformation the African Union wants to see."
In order to make the most of the opportunity offered by a growing population, however, African leaders will have to invest in ensuring that young people have the skills they need to compete in the modern world. And the skills they need are likely to be very different from the ones their parents and grandparents needed.
"Young Africans will need digital literacy skills but given that a number of jobs can be automated using AI, I believe that the most important skill is the ability to think critically and problem solve. There will always be a problem to be solved.
The growing population is likely to mean that there are "a lot of opportunities in urbanisation and agriculture, as well as education." She is very optimistic about the future and sees "the fear of change itself" as the greatest obstacle to transformative change in Africa. It is not a fear she shares. In fact, she is convinced that change is an essential part of her company's plan for the future.
"DMM.HeHe's tagline is 'Invent The Future' just so we are always aware of the need for constantly innovating and adapting to changes. We have programed our minds to equate change to growth."