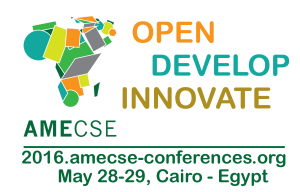 The Africa and Middle East Conference on Software Engineering (AMECSE) is back this year in Cairo. The region's first conference in this field, to be held in partnership with eLearning Africa, is currently calling for proposals on the theme: "OPEN—DEVELOP—INNOVATE".
Organised by the Software Engineering Competence Center (SECC) of the Information Technology Industry Development Agency (ITIDA), conference participants can expect to discuss the most recent trends and developments in the field of software engineering and network with professionals from industry, government and academia from across the world.
"AMECSE's 2016 theme, OPEN—DEVELOP—INNOVATE, celebrates the interdependence and correlation of openness, development and innovation in software engineering to enhance quality of life and grow the economy of our region," says Dr. Hossam Osman, General Chair of AMECSE and Acting CEO of ITIDA.
The conference places special emphasis on the latest innovations and how they can create sustainable economic development and inspire further research. "The triple helix of openness, development and innovation is the engine driving economic growth," says Osman. "The future will present unlimited opportunities with businesses around the world hunting disruptive innovations through development and openness."
This will be the second conference of the series, which has previously looked at such trends as web entrepreneurship in Kenya, open data in fighting epidemics, and cloud computing for small businesses in developing countries. The conference is set to take place in Cairo, Egypt, from May 28- 29 – directly after eLearning Africa.
"This year AMECSE 2016 is honoured to partner with the prestigious eLearning Africa and organise our events back-to-back in Egypt," says Osman. "We encourage participants from all over the world to participate in AMECSE 2016."
All eLearning Africa participants will be eligible for a 10% discount on AMECSE registration rates. Learn more about AMECSE and keep up to date on the conference website. To find out about the submissions process and deadlines, click here.