By Francis KOKUTSE, journalist and media consultant based inAccra, Ghana.
The African Development (AfDB) has extended an innovative process called the Souk At-tanmia ("Market for Development") programme in southern Morocco to promote entrepreneurship among graduates. The concept fits into what Albert Nsengiyumva, executive secretary of the Association for the Development of Education in Africa (ADEA), says is necessary in order to win the war that has kept university products unemployed.
In a release to announce this year's eLearning Africa Conference, scheduled for Côte d'Ivoire from October 23-25, Nsengiyumva said, "There is a need to find innovative as well as well- tailored career paths for university products." He added, "Making sure that our people have got the skills they need to compete is vital for the future of the whole African continent.
The AfDB recently inaugurated the Moroccan component of the Souk At-tanmia programme. On the occasion, the internationally circulated Arab Weekly reported that AfDB Director-General Mohamed El Azizi said, "We have now launched Souk At-tanmia programme in Morocco, which is an important initiative for young entrepreneurs in general and start-ups in particular."
Nsengiyumva commented further, "The pace of change is going to get faster and faster. If we want to make a reality of the African Union's 2063 vision of a 'transformed continent,' we have got to put the systems, structures and solutions we need in place now.
"We also need to look carefully at what investors expect from Africa's workforce and how we can make African labour markets attractive to potential employers. The discussions ministers and investors have at this year's eLA are an important part of planning for the future," he added.
The Souk At-tanmia concept was was initially put into practice in Tunisia after the "Arab spring" to support young people setting up their own enterprises. Combining access to financing and targeted support, the objective of Souk At-tanmia is to give young people, women, associations, cooperatives, and micro-entrepreneurs an opportunity to innovate and help their ideas materialise.
Azizi added, "The success rate after five years reflects the programme's progress in Tunisia, and we have been thinking of generalising it based on the Tunisian model. That effort culminated in the creation of more than 250 enterprises by young people in various sectors. Morocco is now the second country we hope will benefit from it."
He also provided the following details: "Souk At-tanmia in Morocco seeks to help create around 300 enterprises with an estimated fund of $4.5 million by providing entrepreneurs with financing, managerial skills, coaching, and follow-up needed to set up and run their businesses."
The programme, which is a partnership among the Danish development cooperation DANIDA, Morocco's Ministry of Economy and Finance, and the Regional Foundation for Entrepreneurship and Enterprise (FREE), helps to finance projects selected from dozens of candidates from throughout Morocco to help them achieve their entrepreneurship dream.
Morocco's Souk At-tanmia was launched in the Guelmim-Oued Noun region, which the Arab Weekly described as one of the country's poorest. According to the High Commission for Planning, the area is burdened by an illiteracy rate of 32.9 per cent, which has led to an unemployment rate of 27.1 per cent, one of the highest in the land and almost three times higher than the national average.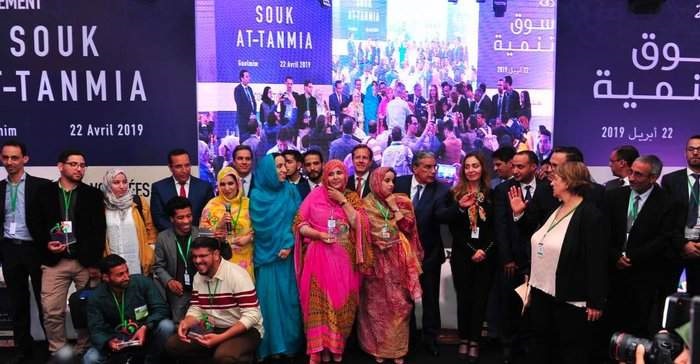 The paper explained that ten candidates from Guelmim-Oued Noun were selected after explaining their projects in various fields, including renewable energy and plastic recycling. El Hassan Baiga, Regional entrepreneurship manager of the Office of Vocational Training and Labour Promotion, said the region "is awash with talented young people who need such opportunities to prove themselves in the job market."
The AfDB put the development of small and medium-sized enterprises and entrepreneurship among its core interventions in Morocco. More than 160 projects totalling more than $10 billion have been approved by the AfDB in Morocco in the last 50 years.
Since 2003, according to Arab Weekly, Denmark has boosted its cooperation with the Middle East and North Africa through a Danish-Arab Partnership Programme (DAPP) called the Arab Initiative. Based upon partnerships with local actors, the Danish endeavour strives to strengthen good governance and ensure economic opportunities, especially for young people and women.