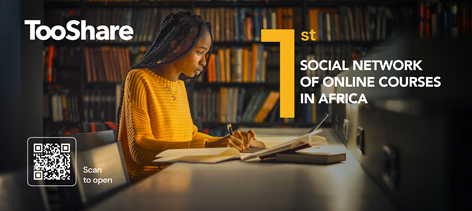 Senegal will host the most anticipated education conference on the continent. On May 24 – 26, 2023 at the Abdou Diouf International Conference Center (CICAD), many experts and guests from all over the world will meet in the capital of the country of Teranga.
This year, the chosen theme is: "New learning model: Innovating to become sustainable, autonomous, equitable and resilient". The panels, sessions, round tables, workshops and exchanges will take place around the latter.
For the 2023 edition of eLearning Africa, TooShare is one of the platinum partners. In its missions, it provides the general secretariat for the organization with the organizer ICWE and facilitates exchanges and the organization of the event with local stakeholders including service providers, suppliers and the Government. TooShare is the first social network for online courses in Africa. Its vision is to become the champion of digital learning on the continent. Its main mission is to provide access to quality online training through its platform developed in Senegal to international standards.
L'EdTech TooShare also aims to facilitate the linking of the various players in the educational ecosystem and makes training materials available on a permanent basis, whatever they may be, for the school and university support of young people and all those who want to up skills.
The immense potential of African youth can become a real asset in global competition with access to quality online education. The adoption of digital technology to educate and train therefore represents an important vector of development for Senegal and Africa. Hence the strong interest for TooShare, a Senegalese EdTech brand to take part in an international forum on education such as eLearning Africa.
E-learning, educational technologies, what is the eLearning Africa conference?
eLearning Africa is a global network of professionals specializing in the fields of education and training supported by information and communication technologies (ICT). This network is made up of educators, trainers, technology specialists, decision-makers and investors. Since 2005, they have been sharing their knowledge and experience, making their network the largest professional community that promotes African expertise and talent in the education sector to the rest of the world and the main platform for knowledge transfer related to education online learning in Africa.
The main missiond'eLearning Africa is to present and support sustainable educational solutions and improve access to relevant information, education and training, with a view to boosting economic and social prosperity. They allow their network to establish contacts and forge multinational and multi-sector partnerships, as well as to strengthen their knowledge, expertise and skills.
The conference brings together more than 800 experts, professionals, researchers and stakeholders in the world of learning from more than 65 countries. Suppliers of learning technologies join users of these technologies, professors and researchers from schools and universities, vice-chancellors of universities, trainers, HR professionals, and leaders of educational institutions public and private. Representatives of information technology, telecommunications and software companies rub shoulders with policymakers, representatives of international organizations and NGOs as well as employees of development organizations and companies.
Annual conference, webinars and round tables, what does the eLearning Africa Conference offer?
The eLearning Africa conference is an opportunity to attend high-level exchanges with eminent
experts in the fields of EdTech, education and digital. Several benefits flow from this:
an overview of the opportunities and challenges that are transforming the world of learning;
guidelines on the choice and use of different technologies;
proven practices, approaches and strategies from leading institutions and organizations;
practical advice on implementing new content and solutions in your learning environment;
an action framework tailored to the needs of your organization and your learners;
case studies highlighting critical success factors;
opportunities to discuss innovative approaches with experts and peers;
a connection with a pan-African community of practice in the field of digital learning;
access to a network of over 73,000 education, training and skills development experts and practitioners across the African continent;
information on the latest trends in ICT-enabled learning and training;
certified teacher professional development training designed to improve teaching, learning and assessment through innovative strategies and solutions.
On the program for this edition, among the speakers and speakers are:
Jessica MATAVELE (Girl Move Academy, Mozambique) pour le thème "Moving the World for Good" ;
Satu JARVINEN (SkillSafari, Finland) pour le thème "Turning a Rote Learning Curriculum into a Motivational, Micro-learning Game While Improving Learning Outcomes" ;
André Chateau Akue ASSEKO (IMT-Nord Europe, France) For the theme "Designing a Hybrid Education: Making the Most of Face-to-face and Remote"
Participants and speakers are encouraged to share their ideas, and insights on the future of education in Africa during the interactive plenary sessions. Indeed, the conference is an interactive and inclusive environment and these sessions generally generate a lot of interest and ideas among all participants. They thus represent the ideal place to popularize the fundamental ideals that the organizersd'eLearning Africa want to share with all actors in the educational ecosystem.
Between parallel sessions and exploring partner company booths, eLearning Africa 2023 attendees will be able to network and make new connections. The connections made at the conference are as diverse as the community of experts and honoured guests who will be there.
See you on May 24 – 26, 2023 in Dakar!!
More information hello@tooshare.com