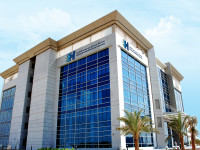 Hamdan Bin Mohammed Smart University, the first certified e-University in the United Arab Emirates (UAE) and a major advocate of the 'smart learning' concept, has been spurring an educational revolution locally and regionally through its sharp focus on innovation, critical thinking, challenging learners to go beyond their perceived limits, and rigorously pursuing knowledge with advanced thinking.
This is a guest post from eLearning Africa 2016 Partner HBMSU
The university's vision is founded on the four key dimensions of Capacity Lead – accurately anticipating and addressing market demands; Impact – ensuring that all its initiatives contribute positively to sustainable local, regional, social and economic development; Leadership Status – acting as the Arab World's premier technology university, serving the needs of the region's business and industry through leadership in applied research and scholarly inquiry; and Market Share – promoting its international brand by forging strategic partnerships with esteemed associations, forums and institutions to position itself as a Knowledge Hub of Smart Learning and Excellence in the international market.
Led by its Supreme President, Sheikh Hamdan bin Mohammed bin Rashid Al Maktoum, the Crown Prince of Dubai, and Chancellor, Dr. Mansoor Al Awar, HBMSU has pioneered smart learning locally and regionally during the course of undertaking its mission of providing high-quality programs using virtual learning environments, supporting lifelong learning, and helping drive overall economic development in the Arab World.
One of the greatest contributions of HBMSU to Arab education is the adoption of a blended learning approach that combines the benefits of face-to-face learning, online collaboration, and self-paced learning. The university's Lifelong Learning Model based on the 4Cs of Casual, Committed, Concentrated, and Continuing Learning meets the diverse and context-specific learning needs of all ages, and uses both formal and informal means to teach essential skills.
Taking the e-Learning paradigm steps further, HBMSU's 'Smart Campus' seamlessly incorporates a number of applications and systems to support the needs of students, professors, and administrative personnel. This virtual school and electronic one-stop-shop connects to virtual classes, academic records and an online registration system. Users can virtually roam around the Smart Campus to access their courses, submit assignments, register for evaluation exams, view grades and submit proposals and suggestions, chat with their peers and professors among others. A mobile app brings the capabilities of the university's virtual campus to smart phone users as well – a 'smart' move given how the UAE's smartphone usage rate is almost double that of the global average[1].
As a testament to the uniqueness and significance of HBMSU's Smart Campus, the initiative won under the 'Regional Award Middle East' category at the 2015 edition of the Wharton-QS Stars Reimagine Education Awards, a prestigious international award that recognizes the world's best higher education innovations and promotes learning and employment. It was honored for its innovative approach in harnessing modern technology to improve the level of smart learning in the Arab World.
Another innovative initiative is the 'Hamdan Bin Mohammed Social Smart Learning Initiative Cloud Campus' launched in 2013 in support of the Dubai Smart City Project. Cloud Campus is a repository of 60- to 90-second videos that use the innovative micro-learning method to disseminate and maximize knowledge retention. Harnessing the power of Cloud Computing, Cloud Campus offers over 5,000 courses covering professional business skills, digital tools and applications which are supported by a community of experts and learners.
In collaboration with Starbucks MENA, HBMSU launched Cloud Campus across 27 of their stores in the UAE in joint initiative. Both parties collaborated for the pioneering initiative as part of their respective Corporate Social Responsibility (CSR) programs focusing to deepen the user's knowledge and enhance their skills in accordance with the 21st century requirements. By this partnership, they aim to help hurdle learning obstacles, offer opportunities to facilitate easy access to information, and enhance the teaching and learning processes through the aid of the latest technological tools.
These unique initiatives epitomize the UAE's ongoing 'smart' transformation as it shifts to a knowledge-based economy. With the UAE ranked among the top Arab countries in terms of information and communication infrastructure and connectivity, 'smart' learning will continue to grow by leaps and bounds here – a trend that is sweeping the entire region as well as its states progress with their own respective educational reforms.
HBMSU emphasizes that today's 'smart' learning strategies provide building blocks for tomorrow's 'Smart Societies' which will rely on innovative solutions for 21st-century living.  The university continues to leverage its Lifelong Learning pedagogy alongside strategic 'Smart Learning' elements to raise the bar in learning as it reshapes the Arab World's educational landscape to complement evolving learning requirements.
Hear more from HBMSU's winning strategy at the eLearning Africa 2016 conferen on May 24-26 in Cairo. 
 [1] http://www.gulfbusiness.com/articles/industry/uaes-smartphone-usage-drives-mobile-retail-growth/