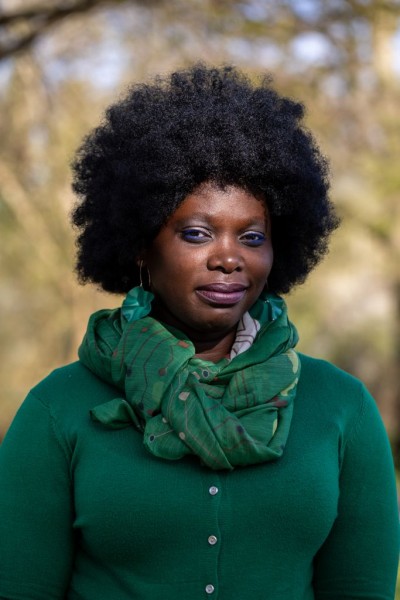 There is an unmistakable sense of urgency about Lady Mariéme Jamme, evidenced in both the cadence and content of her speech. She is a Lady on a mission. That is not hyperbole. "I'm on a mission to teach one million women and girls to learn how to code by the year 2030" says the Senegelese-born businesswoman. "I think the urgency comes from being a concerned African but also as a citizen of the world –– time is absolutely critical for me."
Coder, technologist, pioneer, and innovator, are a few more descriptors which would accurately describe Jamme. One gets the sense she feels duty-bound to create the opportunities she was never afforded as a young African girl. "So now I have the influence, the power, the knowledge, the connections, and so I feel that we need to really do something very quickly for young women and girls growing up across the continent and across the world to have the skills they need so they can join the global workforce" says the 47 year old.
Jamme's story is a complex one. Born into an aristocratic family –– her mother part of the first African elites –– her upbringing was anything but privileged. "I came from a background where education was very, very important but, unfortunately, my mother had to give my twin brother and I away as children because of the social issues my country was facing."
She shares openly about her past trauma: sent to live in Kaolack, on the north bank of the Saloum River, "I was sexually abused by my Quranic teacher and at 13 years old, I was taken away from Senegal to France. This really created a massive impediment in my growth as a child from zero to 16 years old."
Now UK-based, Lady Mariéme wants to see systems changed "but for the system to change somebody has to go and do it and I have volunteered myself as an African to go and teach". Teaching is her way. From teaching herself to read and write to learning how to code seven coding languages in two years in her local library.
"I used to be a cleaner here working at hotels and bars. My brain was not really wired to understand anything, and I think that's why my work today is very interesting because I work on AI. I work on the brain, how the human brain works, and resilience and tenacity. How do you make sure you keep going no matter what people put in front of you? I live in adversity every single day. I suffered racism quite a lot. People didn't really understand what I was, but I was a traumatised young woman who really didn't understand what was going on across the world and, as I started learning how to code and how to read and write, the Internet was born."
From grappling with coding and the advent of the internet to receiving a call from Sir Tim Berners-Lee to serve on the board of the World Wide Web Foundation –– the first Black woman to do so – Jamme admits it was frustration that led to establishing her foundation six years ago.
"I was travelling across the country and really getting a lot of excuses about how 'Africans can't code' or 'let's feed them first before we talk about innovation', but I've been talking about this for the last 20 years" she says. "Let's stop giving ourselves excuses because by the time you're done giving yourself excuses, people in Estonia are building amazing solutions; Tel Aviv is building AI solutions right now while you are sleeping. I had the privilege to work with Mr Kofi Annan and his team in Switzerland and I realised that actually the only way we can make a difference is to be aggressive about this."
iamtheCODE is the vehicle through which Jamme plans to realise her vision and mission. "Africa needs to be at the centre of technological disruption now, not tomorrow." The organisation takes its 12 week programme into schools, communities, and refugee camps. "They need to learn at least four coding languages like Java, Python, Ruby. They need to also learn the basics of HTML. They need to get into the United Nations Sustainable Development Goals –– we are building young girls who can understand global issues. African entrepreneurs need to get Into the SDGs because they are the blueprint for humanity, for the environment, for climate change, for the planet."
"There is no excuse for excellence. We give excuses to our people because we don't want to invest in them. They will know AI, Machine Learning, and Big Data."
Jamme argues "most programmes across Africa are not designed with empathy, compassion, and kindness in mind. They're not designed with a sustainability mindset. Art has helped me with my mental health when I was growing up, so what I'm saying is let's bring a blended curriculum, which is the STEM subjects plus Art and Design." Through this reimagined STEAMD focus, the plan is to "centre humanity with everything we do and meaningfully take care of our people" says Jamme.
Lady Mariéme laments the cost of tuition but implores us to be realistic about education in Africa. To be realistic about who will have, and who will not have. "But we should not create a 'left behind' process or 'leftover' processes where we just give to some and forget the others. That's not equality. That's not justice, and that will not create peace or transformation for Africa in the next 10 to 20 Years."
"Right now we have so many empty houses in Africa and my job is to make sure I go and put decorations into the houses of Africa. So tomorrow we can rent them. That's my analogy."