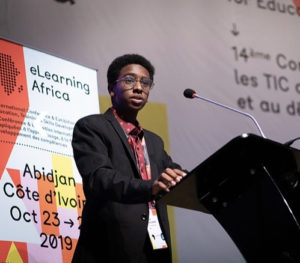 By Mahid Abdulkarim
It has been decades since the world had been affected by a virus as much as it has now. It appears there is now a general agreement that nothing is the same anymore. Everyone's life has taken a turn in the past few months.
Whether it's your online education, work from home or in sanitized offices, your daily routines or your favorite hobbies, something has changed. In this article I would like to share my own experience in coping with the COVID-19 pandemic.
My peers and I were three weeks away from our graduation ceremony when the virus saw the streets of Sudan for the first time. I reckon you can imagine our excitement, and later our disappointment. Have you ever finished a task before you realized you had done something wrong in the beginning which will force you to restart? This is a completely different situation with the exact same heartbreaking outcome. Fortunately for me, I still have a couple of opportunities to graduate from different and higher levels of education in the future.

E-Learning's time to shine is now. Schools and universities around the world are currently hosting online classes for their students. The e-learning industry is flourishing like never before. Unfortunately, many schools, including mine, aren't invested into e-learning yet. No online classes have been organized by my school which has complicated the student's education. Next school year we'll have more topics to cover due to missed material in the previous school term. Some students who aren't privileged enough to go to schools with online courses still have a window to learn.

Among the many universities that took initiatives to ensure that students like me, who weren't getting good education during the lockdown, is Harvard University. They've made free online courses easily accessible for all. The availability of 'Massive Open Online Courses' (MOOCs) have had a huge positive impact on the education sector, and now it has increased the availability of quality education around the world for those who need it. Currently in Sudan only a couple of schools offer online classes, both are private international schools. All other schools in the country have closed and appear to be planning to skip the rest of the school year altogether. The lack of affordable and accessible quality education is a big problem for us.

I've enrolled into a computer science course that is offered by Harvard's Free Online Courses Program to benefit from my time at home. The courses have different difficulty levels, due dates, and require different hours of commitment per week depending on their difficulty. My course of choice was an introductory self-paced course that requires a commitment of ten to twenty hours per week. It's a great way to make amazing use of free time. I recommend taking a course for everyone. Of course, taking college courses has its challenges. The worry of submitting assignments before the due date, the countless hours spent on projects and the stress of making time for all the different courses you're enrolled in. As I look at these challenges from a different perspective, I come to realize that these experiences are going to help smoothen my transition from high school to university. I'll be more confident as I move on to the next chapter of my life.

Social distancing has been hard on many people to say the least. I went from seeing family and friends in person almost every day to resorting to video-calling. I feel lucky to live in the age of modern technology as it has made this easier for some of us. Although I have missed the beauty of the outside world and the everyday challenges I used to face on my normal days, I am cherishing the idea of being locked down with my family.

I see the lockdown as an opportunity to mentally grow, discover new activities and bond with my loved ones. These are some of the things I would not be able to make time for on a normal day before the pandemic broke. A quote that I live by is: "Success is about finding the hidden opportunity in a negative situation." As we continue to receive more and more bad news about the virus and its physical, psychological and economic toll on everyone, I am determined to continue searching for more hidden opportunities. I hope you can do the same. We're all in this together. Stay safe and most importantly, say yes to opportunity!

Mahid Abdulkarim was born in Khartoum, Sudan, in 2004. He graduated from Unity High School (Sudan), and will continue his studies in the USA. He wants to study engineering and business and become a successful entrepreneur in the future. He has attended the previous three eLearning Africa conferences, one in which he was a plenary keynote speaker. He also wants to use the resources he earns from his success to open more schools and add eLearning systems to schools in Sudan. He is currently a member of the Sudanese Organisation for Innovative Learning Systems (SOILS). Although he is only sixteen years old, Mahid is a confident and experienced public speaker, whose views on skills, innovation and the challenges facing young people in Africa are sure to provoke a lively discussion.