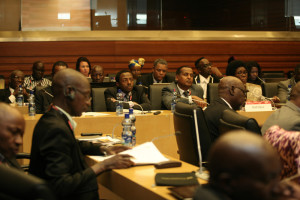 African Education and ICT ministers will be heading for Mauritius at the end of September for eLearning Africa, the continent's largest conference on technology-assisted learning and training. The ministers will take part in the annual Ministerial Round Table at the conference and the agenda for the event shows that there is likely to be a lively discussion about fundamental issues affecting the future of education in Africa.
eLearning Africa's Ministerial Round Table (MRT) provides a special forum at the conference for ministers and officials from African governments to talk to each other, as well as to experts and leading investors in Africa's growing edTech sector, about cooperation in the field of technology assisted learning. In the past, it has been the setting for important discussions about key issues affecting education, communications and technology policy.
Last year's MRT focussed on how governments could help to turn the African Union's 2063 Vision into reality. This year, the connection between education and employment is at the top of the agenda for the MRT. Ministers are keen to examine in detail how technology can expand opportunity in education and how this, in turn, can help to reduce unemployment and stimulate growth.
The agenda for the Round Table describes education as "the key to reducing unemployment and increasing competition in Africa." In a session on "creating tomorrow's jobs in Africa," ministers will consider how Information and Communication Technologies (ICTs) can boost training and increase skills development to "create the jobs of the future."
In sessions on 'Linking Education and Employment' and 'Entrepreneurship in Africa,' ministers are likely also to discuss some of the most fundamental questions for educators and policy-makers in today's rapidly changing, technology driven environment.
How closely should education be linked to employment? In a rapidly changing world, how closely can it be linked? And, given the likelihood that the pace of change will continue to quicken in the future, is what African countries need the discipline of training, closely linked to employment, or the flexibility of education?
At this year's MRT, Ministers, Deputy Ministers and high level government officials representing 17 countries throughout Africa will tackle some really important issues," says Rebecca Stromeyer, the founder and organiser of eLearning Africa. "They'll look in detail at some of the most important education-related issues surrounding employment, job creation and entrepreneurship. They'll also consider some more fundamental, almost philosophical questions about the nature and purpose of education and training. It is important to think about these questions because we are on the threshold of a new age. Change is happening very quickly and we need to stand back and think about what education is for, how technology is affecting it and what we want to achieve. We have the greatest opportunity in history now to use technology to bring about positive change. We can meet the UN's Sustainable Development Goals and transform the lives of millions of people but we need to think carefully about the future and what we want for it."
"I am delighted that so many senior ministers will be joining us at the MRT in Mauritius for what will be a fascinating and highly important discussion. I am very pleased that many of them will also take part in the main eLearning Africa conference. It's not only an opportunity for them to learn about developments in the edTech sector from some of the world's leading pioneers, but it is also a chance for our conference participants to share their views with people who are shaping African education."
eLearning Africa 2017
The eLearning Africa 2017 conference will be hosted in Balaclava, Mauritius on 27th – 29th September 2017.