Nigerian-born Efosa Ojomo, who will be a keynote speaker at this year's eLearning Africa conference, is rapidly gaining a reputation as one of Africa's leading thinkers on innovation. Together with Harvard Business School Professor Clayton Christensen and Karen Dillon, the former editor of the Harvard Business Review, he recently published 'The Prosperity Paradox,' which looks at how "the right kind of innovation" can help policymakers and entrepreneurs lift countries out of poverty and into prosperity. Current solutions, although sometimes noble, he believes, have often exacerbated the problem.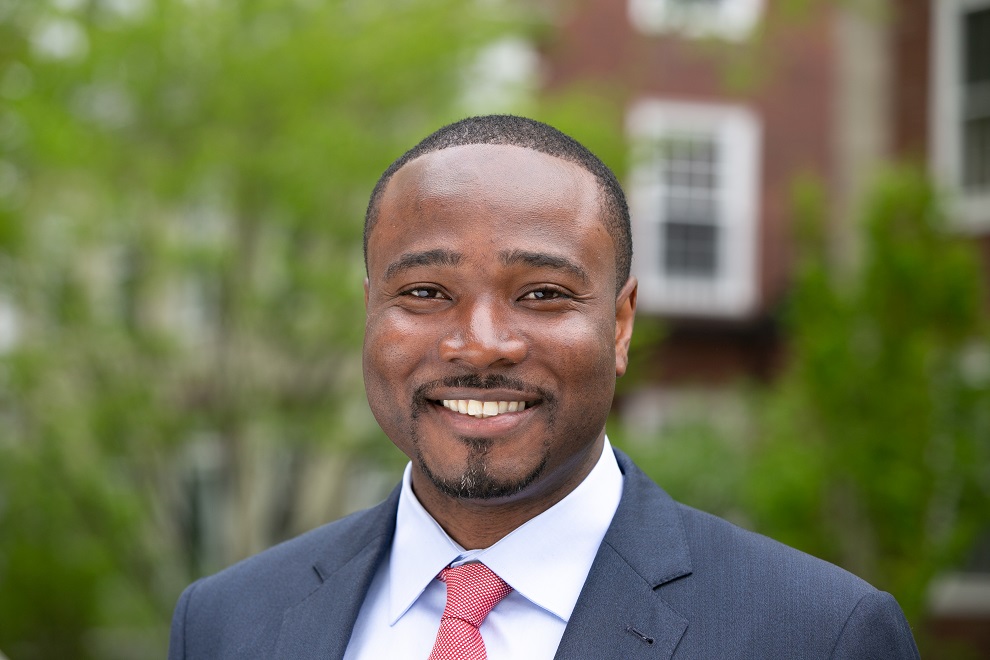 Ojomo has a passionate, personal commitment to ending poverty in Africa. He left Nigeria to study computer engineering at Vanderbilt University in the United States and, after a spell working in engineering and business development for National Instruments, set up 'Poverty Stops Here,' a not-for-profit organisation, which helps marginalised communities in Africa to get access to health services, clean water, education and micro-finance. Since its inception in 2009, it has provided over $200,000 to support health and education initiatives in five different communities. It has also made over $90,000 available in micro-finance loans to support small businesses.
What 'Poverty Stops Here' achieved in a very short time was remarkable but it was not enough for Ojomo. His experience of growing up in a poor family in Nigeria made him want to do more and he saw that a common problem for many charities and not-for-profit organisations is that often they are unable to bring about significant improvements to people's lives on a large scale. The key, he recognised, was to empower people to change their lives, enabling them to create innovative solutions to the problems they face. And the key to innovation is education.
"I think the purpose of education – be it in an age of rapid technological change or in an age of slow technological change – should never quite change," he says. "The purpose of education should be to develop the human capital of citizens in a region so they can become more productive in solving the region's problems. This is important because it means, by design, the way we educate might change, but the purpose should never change. The late MIT Professor, Alice Amsden, once wrote that 'in education, even if school class size is reduced and the quality of education is increased, aid will lead to either brain drain or misery unless the newly educated can find work.' This does not mean the only purpose of education is to prepare people for work, but it certainly means that if education is not preparing a majority of people for work in an economy, its value will be significantly limited."
As he considered how he could expand his capacity to make a real difference in tackling poverty, Ojomo realised that, in order to take his next big step forward, he had to take his own education to the next stage and go back to school. So, he applied for a place at the Harvard Business School and was accepted. It was at Harvard that he met his mentor and co-author, Professor Clayton Christensen, the founder of the Christensen Institute, where he is now a senior research fellow in the Institute for Disruptive Innovation. His position provides him with a platform from which to promote his theories of innovation and its role in changing the nature of development and creating prosperity in some of the world's most hopeless and abandoned communities.
Innovation may be the key ingredient in creating prosperity but there is a problem. Like entrepreneurship, it may not be for everyone. Not everyone is a natural innovator. So, can innovation be taught?
"Yes," says Ojomo without hesitation. "For hundreds of years, until the Industrial Revolution in England the whole world practically lived on less than $3 a day. Famed economist, Deirdre McCloskey documents this well. Then the Revolution happened. First in England, and then Europe, and then the United States. And now we see a technological revolution happening in Asia and other parts of the world. People in these regions were not born with a secret 'innovation sauce.' They learned it. The way you learn how to be innovative is to connect innovative activity to the progress people are trying to make in their lives. It is to highlight innovation as the best possible way to gain prosperity – economic, social, and political success. Once this shift happens, the innovative prowess of people will be unlocked in ways that will be both surprising and inspiring."
Ojomo does not believe in innovation as some mysterious, ethereal concept. The type of innovation that can be truly transformative in an economy or a community is what he and Clayton Christensen define as a "market-creating innovation." 'The Prosperity Paradox' gives examples, such as the Ford Model T and Tolaram instant noodles, which made cheap, convenient food available to millions of Nigerians.
Such innovations are one of the main reasons why we should change the nature of our thinking about development. Countries should use innovation to "pull" resources in, rather than relying on NGOs and foreign governments to "push" them in. Ojomo believes that low and middle-income African countries are quite capable of doing this but they need to understand the nature of innovation and its effect on markets.
"African countries and companies should understand that, from an economic development impact standpoint, there are different types of innovations with distinct characteristics—some increase efficiency in a given industry, others create new markets, and some make existing products better.
Each type of innovation is valuable for sustained economic development, but market-creating innovations often serve as the foundation on which many vibrant economies are built. These innovations transform complicated and expensive products into simple and affordable ones, thereby making them available to a larger segment of society who historically were not able to afford the existing products on the market. The new markets that are created by these innovations, in turn, pull in other components an economy needs to thrive. For example, think of all the things the automobile market pulled into America: cars, steel, roads, new laws and regulations, suburbs, and so on. Although many new markets won't pull in as much as the automobile market does, the pattern is consistent. Our research into how different types of innovation impact economies shows that the effects of a market-creating innovation on economic development far outweigh other types of innovations.
In the economic development equation, market-creating innovations typically precede the development of strong institutions and lasting infrastructure."
He is reluctant to predict Africa's future and shies away from the chance to paint an easy, rosy picture. Africa faces choices and challenges. The choices are difficult but many of the challenges are also opportunities.
"I don't know what the future holds for Africa because it could go either way. Good or bad. In essence, Africa's biggest challenges are also its biggest opportunities. First Africa's biggest challenges are its youth and the severe level of underdevelopment in the region. This means that, by making basic things such as food, furniture, housing, clothes, health, and so on, simple and affordable to many people, organizations can reap significant return. In addition, this process of making these things simple and affordable will create immense opportunity for job creation for millions. Consider how the mobile telecommunications revolution on the continent created billions of dollars of economic value and now supports close to four million jobs. There are many other opportunities like that in Africa."
Efosa Ojomo is a powerful thinker and someone who is determined to use his formidable talents to bring about positive change. He is a man with both a vision and a strong core of personal belief.
"Life is incredibly difficult for most people," he says. "The more I can be kind to the next person, the better chance that person has of being kind to the person next to them.
My faith informs a lot of my values. I am called to love everyone, especially my enemies. I think that centres me. It causes me to always consider how my thoughts and actions might affect others."
With Africa facing great challenges, but also an unparalleled opportunity to transform itself and achieve sustainable prosperity for the whole continent, it is a reasonable bet that we will be hearing a lot more both from and about Efosa Ojomo in the future.
Don't miss Efosa Ojomo at eLearning Africa 2019 in Abidjan!