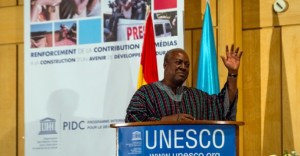 On the occasion of the International Day of Universal Access to Information (IDUAI), UNESCO will host one plenary and three panel sessions at eLearning Africa, each devoted to exploring aspects of the campaign to create universal access to information and knowledge.
The development of the World Wide Web has opened up new horizons of opportunity for humanity, not the least in the fields of education and training. The Web has become the primary means of extending the reach of educational opportunity across the globe, opening up an array of new opportunities for hundreds of millions of people. However, it has also encouraged the growth of several significant threats to both individuals and society.
UNESCO's sessions will consider how universal access to information and knowledge can be achieved, and how the effects of the Web's dark side can be mitigated.
The International Day of Universal Access to Information (IDUAI) will kick off with a Plenary Opening Session, in which UNESCO's Director of the Knowledge Societies Division, Indrajit Banerjee, will lead a discussion on 'Universal Access to Information' and why it is vital for societies to develop and thrive. Panellists will include Ann Therese Ndong Jatta, the Director of UNESCO Regional office for Eastern Africa, H.E. Mr. Günter Nooke, German Chancellor's Personal Representative for Africa in the Federal Ministry for Economic Cooperation and Development, Vincent Wen, CEO Talkmate, Kenneth Kam Boon Hee of the Kenn Foundation, and H.E. Barlen Vyapoory, the Vice-President of the Republic of Mauritius.
The first panel discussion, entitled "Universal Access to Information and Knowledge," will be moderated by Parsuramen Armoogum of the Global Rainbow Foundation and participants will debate about Open Access from a policy-making perspective. Panellists Chafica Haddad of the Information for All Programme, Natasa Milic-Frayling of UNESCO's Persist Project, Edrine Wanyamai of CIPESA in Uganda, Robert di Cosmo of INRIA, Gilbert Sendugwa from African Platform of Access to Information (APAI) and Indrajit Banerjee, from UNESCO, will discuss the prerequisites for access to information. They will consider the concept of rights to the internet, the various regulatory issues, surrounding universal access to information, as well as infrastructural challenges that have to be overcome.
In the second panel session on 'International Cooperation on InfoEthics,' which will be moderated by Boyan Rodakov of UNESCO, the discussion will focus on ethical considerations of the use of cyberspace and the promotion of human rights online. Issues such as cyber ethics and abuses of universal access, including violent extremism and fake news, will be considered by speakers like Ben Cotzee Bester, Vice Chancellor and Principal of the African Center for Information Ethics (ANIE), Preetam Maloor of the ITU Cybersecurity Team, the French lawyer Dan Shefet and Gabriella Razzano of the African Platform for Access to Information (APAI).
The final panel, entitled "International Cooperation on Education and Digital Inclusion to 'Leave No One Behind,'" will address issues such as the role of Information and Communication Technologies in improving the life of people with disabilities and the role of ICTs in empowering women and girls in achieving SDG 5. Moderated by Ann Therese Ndong Jatta, Director of UNESCO Regional office for Eastern Africa, panellists will include Joe Hironaka from UNESCO Knowledge Societies Division, Jaco du Toit, the Regional Advisor for Communication and Information at UNESCO's Regional Office for eastern Africa, Fredrick Kitoogo, National Information Technology Authority – Uganda (NITAU), Daniel Burgos, UNESCO's Chair on eLearning and the ICDE's Chair in Open Educational Resources, Claire Gillissen-Duval, the Director of Corporate Social Responsibility at EMEA, SAP, and more.
Join us for these fascinating discussions about issues of fundamental importance.