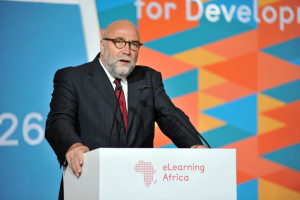 Last week's eLearning Africa conference concluded with a statement of German support for developing digital education in the continent. Guenter Nooke, a former member of the Bundestag, and Angela Merkel's Special Representative for Africa spoke at the conference, which is Africa's largest conference for technology assisted learning and training, to affirm and highlight Germany's interest and support in expanding digital learning for the further development of African countries.
Mr Nooke shared that the Federal Ministry for Economic Cooperation and Development (BMZ) has launched its own strategy to systematically integrate ICT in its development cooperation, allocating around 100 million euros for digital projects through its Digital Africa Initiative.
Mrs Merkel has long believed in the importance of technology in education-based development aid for Africa, and Mr Nooke gave several examples of German support for digital education in Africa. These included ICT programmes to improve teacher training in rural areas in Mozambique and Malawi and using ICT to improve both access to, and the quality of, education for refugees.
Mr Nooke continued by emphasising the importance of cooperation with the private sector to Germany's digital agenda.  The private sector is involved in both Germany's 'Digital Africa' Strategic Partnership and in the 'Make IT' programme, which provides support for start-ups and tech entrepreneurs.
In addition, Mr Nooke emphasised the importance of collaboration with digital start-ups, illustrating the point with a mention of collaboration with the software firm SAP in the framework of the Africa Code Week to promote digital literacy and coding for children and youth in Africa.
Mr Nooke reminded his audience that both digital skills and access are important priorities for the German government, and discussed the eSkills4Girls initiative, which aims to promote participation, education and employment for girls and women in a digital world. In order to continue with the work, BMZ has recently joined the Global Partnership for Gender Equality in the Digital Age (EQUALS), a multi-stakeholder initiative, to accelerate global progress on bridging the gender digital divide.