By Ferhana Dostmohamed
Question: "How may eLearning courses does my staff need to complete to improve their performance?"
Answer: "It doesn't matter how many if they are not aligned to the business challenges/requirements."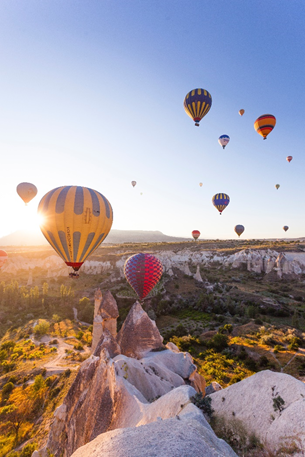 Many organizations keep spending money on training, without seeing any tangible improvements in output or business successes. If you are experienced this, you are not alone. You see fancy eLearning created with high quality graphics, fun games and all other bells and whistles, and you wonder why it didn't change performance.
The biggest reason for why this happens is that learning is not aligned to the business strategy. Too many corporate learning programs focus on things which are not connected to what is important to their business. This is why "Only 33% of business leaders think the L&D function impacts business outcomes, and fewer consider the function to be relevant or timely."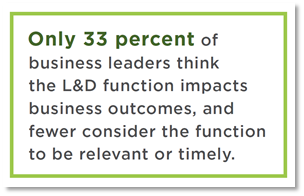 Often, there is so much going on and depending on who you talk to, there are conflicting priorities. It is hard to know where to start and what to work on that will make the most impact.
So, where do you start? Here are four steps to get you going in the right direction:
Step 1: Connect your learning to the business challenges that your organization is facing.
Every time you need to create a learning solution, start by asking which business challenge, requirement is this going to help solve? If this cannot be answered clearly, there is less chance of the learning being meaningful. We'll spend time in the workshop talking about what key business challenges/requirements are and how you can help your business identify them.
Step 2: Meet with stakeholders who are asking you to help solve the issue and who can help clarify them
Stakeholders can be anyone who is impacted by the business challenge/requirement. This can be leadership, management, team members and more. Without your stakeholders helping you to clarify the issue and painting their reality as well as validating what solutions may work for them, you won't know if your solution will hit the mark, or even be relevant.
Step 3: Discuss what the best delivery of the learning solution would be.
In a world of ever-growing options, knowing what type of solution will work with your audience is a key part of ensuring its success. This includes thinking about the technology you can use, how content will be delivered, who will deliver it, when will it be delivered, and also where.
Step 4: Storyboard your content with the help of Subject Matter Experts (SMEs)
Once you land on the delivery of the learning solution, you are not yet ready to jump into developing the content. You need to first plan it out, ensure you have all the right content/context/detail before you develop it. This is regardless of whether your solution is an eLearning, a video or in-person session. The old saying of measure twice and cut once applies here too.
---
As you can imagine, each of these steps helping you get from strategy to design have a lot of work behind them. If you follow the steps and force yourself to plan and ensure you are going in the right direction before you jump to developing content, your learning solutions will be relevant to the business, easy to connect to business success, help you with tracking your key performance indicators and will show tangible improvements in staff performance.
Join me in discussing how to build your learning strategies, use key tools such as rapid needs assessment and storyboarding for design to align the learning in your organization on October 23rd, 2019 in Abidjan. See you there.

---
Ferhana Dostmohamed will be speaking at eLearning Africa 2019.
Don't miss out on her workshop From Strategy to Design: How to Plan for Learning in your Organization on Wednesday, 23 October 2019.
Take a look at the rest of the programme here.