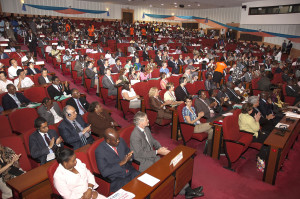 Amid concern that, in the rush to embrace globalisation and the opportunities offered by new technologies, insufficient attention is being paid to local conditions and traditional African knowledge, Hon. Yogida Sawmynaden and Hon. Leela Devi Dookun-Luchoomun will join international experts at eLearning Africa to stress the importance of context in African education.
The Mauritian Minister of ICT, Hon. Yogida Sawmynaden, and Minister of Education and Human Resources, Tertiary Education and Scientific Research, Hon. Leela Devi Dookun-Luchoomun, will be speaking at the opening plenary session of the conference in Port Louis, Mauritius on 27 September. They will be joined on the platform by experts, including Professor Huang Ronghuai, Dean of the Smart Learning Institute of the Beijing Normal University and Director of the UNESCO International Training Centre for Rural Education, and Dr Amany Asfour, Secretary General of the African Society for Scientific Research and Technology.
'Learning in Context' is the main theme of this year's eLearning Africa, the continent's largest conference on technology-assisted learning and training and many sessions will address the importance of the local context for African schools, digital literacy and mobile learning.
"Context is a vital factor in education in Africa and particularly in the implementation of new systems of technology-assisted learning," says conference organiser Rebecca Stromeyer, the founder of eLearning Africa.
"The conference will consider a range of important issues, which relate to context. We'll look at how context affects the overall provision of education in Africa; what the opportunities are of a properly contextualised approach to education and training; how exactly context can be designed into education initiatives; and how eLearning and digitalisation can support inclusivity, increase access to information and help to pass on Africa's rich heritage of traditional knowledge.
"We'll also be holding a major discussion at this year's eLearning Debate on the impact of large-scale projects by international organisations and companies. One of the criticisms of these so-called 'Silicon Valley initiatives' has been that they impose a 'one-size-fits-all' model, which is inappropriate for Africa's needs. It'll be very interesting to hear how conference participants respond to the arguments put forward by our panel of expert speakers."
eLearning Africa, which will take place at the InterContinental Mauritius Resort in Balaclava Fort from the 27-29 September, will be hosted by the Government of Mauritius and feature an exhibition of products and services, offering new solutions in the field of technology-assisted learning and training.