Access to computers and internet is growing in Africa – but high-quality educational courseware is still out of reach for many schools, parents and children.  The e-Learning for Kids Foundation (EFK), a global non-profit foundation dedicated to opening doors to education worldwide, has entered into many exciting partnerships with schools, organizations and non-profits throughout the African continent by making available their proven 800+ digital courseware. By joining forces with local partners, schools and libraries (as well as parents and teachers), EFK has been able to fill a content void and act in the interest of efficiency, accessibility and education for African children.
Established in 2004, EFK has provided more than 20 million children with access to fun and FREE learning through online and offline digital lessons in elementary school subjects including Math, Science, Language Arts, Computers, Life and Health Skills. Included are two full K-6 International Baccalaureate curriculums — Mathworld and Scienceworld — consisting of 336 and 213 lessons respectively.  Some lessons are also available in French, Spanish and Portuguese. Most lessons are 15 -30 minutes long and were developed by innovative e-learning experts who applied child learning theories in their design.
Nick van Dam, Founder and Chairman of the EFK foundation, had the vision to create this platform to help open doors for children worldwide so that they could grow and learn by acquiring core basic skills – and from anywhere in the world. EFK is staffed by volunteers, who are professionals in their respective fields and interested in giving back by investing in the future of our children around the globe.
As this story continues to unfold, the potential for future expansion is great.  From the start, Africa has always been one of the leading users of this best-in-class educational offering for children 5-12. Partnerships in Africa are many and in the last five years the countries with the highest usage of the EFK lessons are Botswana, Kenya, South Africa, Zimbabwe and Uganda. Collaboration with partner networks has allowed the blending of EFK's educational content with local African implementation and support. By partnering, EFK has been able to extend, complement and sustain their educational reach beyond what any one partner organization could have done individually.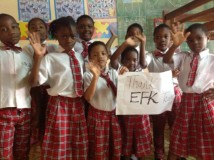 How can you help? Success depends upon teaming with others. One very important way is by helping "spread the word" about the foundation by letting schools, organizations, NGO's, teachers and parents know about EFK so that ultimately more children can benefit from the educational opportunities that these partnerships bring. This is particularly important in Africa as it has one of the youngest populations in the world. Together we CAN make a difference with education in Africa!