Nelson Mandela said that "education is the key to everything."
It is a view shared by a woman who played an important part in his struggles and is keen now for Africa to build on his legacy. Dr Mamphela Ramphele is, without doubt, one of Africa's most inspirational and successful women. She has a range and breadth of experience that is quite astonishing. A medical doctor, an academic and a businesswoman, she is also the former leader of South Africa's Agang SA political party and the former partner of the great anti-apartheid campaigner Steve Biko, with whom she founded the Black Consciousness movement. As though that were not more than enough for one life, she just happens also to have served as the Vice Chancellor of the University of Cape Town and as a Managing Director of the World Bank.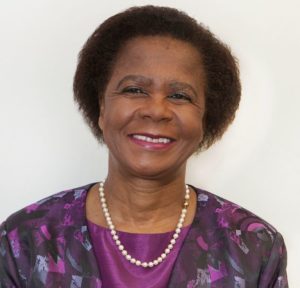 She will top the bill at this year's eLearning Africa conference in Kigali, Rwanda, heading an exciting list of keynote speakers in a fascinating programme of discussions, workshops and debates under the overall theme of 'Uniting Africa.' Of all her many achievements, she says that "being an activist, fighting for a democratic, just society, as reflected in our constitution" is her greatest.
She is a believer in both education, which she describes as "the door to a future one can shape and work towards" and technology, which she sees as "the connector across all barriers to unleash the capacities of humanity to build a more prosperous world."
The African Union has set out its 2067 Agenda for a 'transformed continent' and technology-assisted education is at the heart of its plans. It knows that technology can act as a 'multiplier' to increase the range of education and magnify its benefits. Dr Ramphele agrees that technology is crucial, not least in helping the most disadvantaged communities in Africa:
"Technology can bring world class teaching and learning materials to all in the global village, enabling children of poor peasants to learn alongside those of wealthy landowners, and creates the possibility for the best talents to flourish beyond class barriers."
Helping the disadvantaged and fighting injustice have been recurring themes in her life. Born in the Bochum district of Northern Transvaal, now Limpopo Province, as a child she witnessed an incident in 1955 in the village of Kranspoort, which she later interpreted as her first experience of black African rebellion against the apartheid system. After a racist Dominee (pastor) of the local Afrikaner Church had decided that a local woman could not be buried in the churchyard because she was a "heathen," villagers took control of the church grounds and buried the woman in defiance of the pastor. The police were called and many villagers were banished, losing their property. Violence against the villagers was met by retaliatory action against the police.
Her political education continued when her sister, Mashadi, was expelled from Emmarentia High School for taking part in a demonstration against the founding of the Republic of South Africa in 1961. In 1968, when Ramphele began her studies at the University of Natal Medical School, the only higher education institution at the time that allowed black students to enrol without prior permission from the Government, she soon became involved in political activism against the apartheid regime. She joined the South African Students' Organisation, which had been formed in 1969 under the leadership of Steve Biko.
She and Biko soon fell in love after they met and began a relationship that later led to the birth of two children. Their son Hlumelo was born in 1978, after Biko's death. Her involvement with Biko drew her deeper into political activism and, as she continued her studies, she became more and more involved in parallel with opposition to apartheid. In 1974, two years after she had graduated, she was charged under the "Suppression of Communism Act," with possession of prohibited literature. In 1975, she had founded Zanempilo Community Health Centre, outside King William's Town.  She was detained under Section 10 of South Africa's new Terrorism Act in 1976 as part of the crack down by the apartheid in the aftermath of the June 16 Soweto student uprising. She was banished to Limpopo Province, where in spite of being under police surveillance, she managed to meet with opposition activists, such as Helen Suzman.
During her banishment she established the Ithusheng Community Health Programme, which provided comprehensive primary health care services that saved thousands of children from preventable diseases and malnutrition.  The programme also helped to empower local women and enable them to establish small agricultural initiatives and other projects. She has remained convinced that the empowerment of women is vital for securing the transformation of Africa.
"We need to realise the opportunity costs of excluding women from economic activity! Southern Africa has the potential to gain 11 per cent of its GDP by 2025, if women fully participate in the economy on par with men, as demonstrated by the 2015 McKinsey Institute study."
She recognises, however, that perhaps even more important for the future of Africa than the empowerment of women is giving young people the opportunity to achieve their full potential.
"Africa has a great future if only its youthful population can rise and claim their right to elect leaders of vision and integrity who would leverage the enormous natural, mineral, arts and culture resources in a growing market, borderless continent to effectively compete in the global economy."
She believes that young Africans need to empower themselves to seize the opportunities of the future. "Young Africans need to find the hero within themselves as citizens and claim their basic rights and exercise their responsibilities! They need to know that we get the leaders we deserve!"
Her own attempt to become a political leader was both unsuccessful and controversial. After forming the Agang South Africa political party, she was invited by the Democratic Alliance to stand as their presidential candidate in the general election of 2014. After initially agreeing, she reversed her decision and was accused by the Democratic Alliance of reneging on her agreement. In July 2014, she announced her withdrawal from politics. Politics is perhaps the only area of her life in which she has not been conspicuously successful. She has learned from this failure and acknowledges that party politics is not her forte, but she remains committed to contributing to social change by leveraging her talents as an active citizen.
Now education is, as always, a major focus for her. For a woman who has been awarded twenty three honorary doctorates, in addition to her earned doctorate in social anthropology from the University of Cape Town, this is hardly surprising. She is convinced that African education can realise its full potential but it needs to emerge from the shadows of the colonial past.
"Africa needs to invest in teaching and learning about the rich heritage of our continent as the cradle of humanity and a contributor to innovation, science and technology from the beginning of human civilization. African young people need to be inoculated against racist and chauvinistic views about 'Western Science' which has no basis in history. Global science, technology, the arts and humanities are the products of all parts of the world!"
She believes that "huge opportunities exist across the continent for low cost excellent education at all levels from ECD to Higher Education" but a lack of political will contributes to a failure to seize these opportunities.
"The biggest challenge," she says, "is the low levels of expectations African politicians have in African children's capacity to excel."
Her belief in Africa's young people is what gives her real confidence about the future.
"A single market is in our hands! Young people have the majority vote that can shape the future!"
She has no doubt that the African Union's vision that Africa can become a "transformed continent" by 2067 is realistic.
"Yes, it is possible! It is in our hands! As Madiba said: it is often said to be impossible until it is done! Let's give Madiba the commitment to the transformation of Africa as his 100th birthday present!"
Dr Mamphela Ramphele will be speaking at eLearning Africa in Kigali, Rwanda from 26 – 28 September 2018, do not miss the opportunity to exchange with this inspirational woman!