by Victor Thien
Organisations are faced with a multitude of challenges when it comes to identifying suitable employees with matching qualifications in African countries and cities.
African employment markets are highly fragmented, increasing the difficulty for organizations to find new employees with specific skills efficiently, given the high number of job seekers applying to a fraction of available jobs in most African countries.
To put challenges into perspective it helps to start with a bird's-eye view of looking at the overall population of ~1.2 billion people across 54 countries on the African continent and to further break down the population into the formal (~500 mil) and the informal (~180 mil) African working-age population, arriving at a total number of ~680 million people.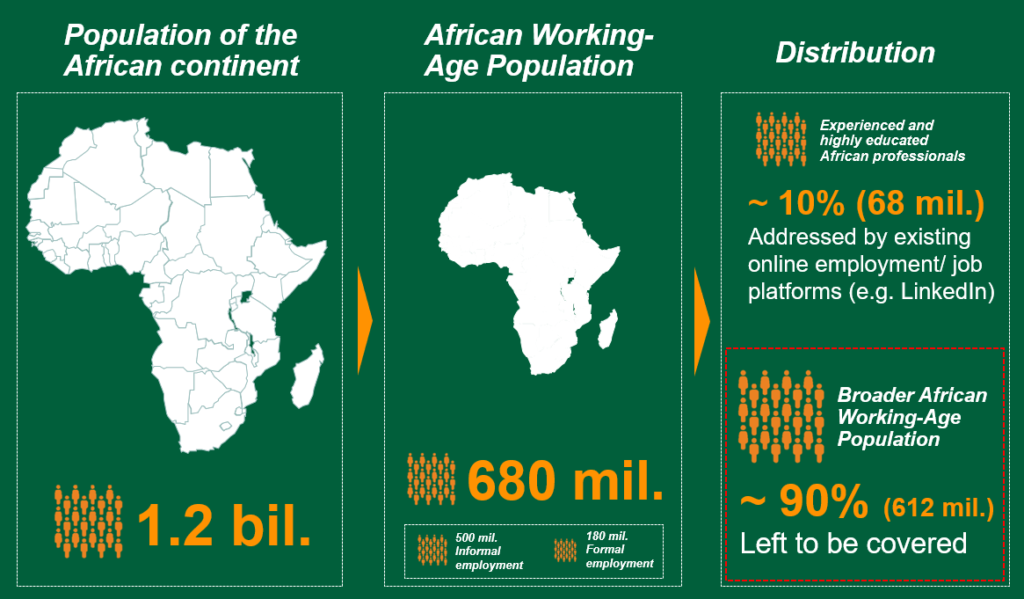 Not only organizations face challenges across African employment markets. Job seekers face their very own challenges, too. Often, they have to bear the high costs of the job search having to pay e.g. a notary public to get their documents substantiated or having to pay fees to recruitment agencies irrespective of a successful placement.
Today, only a small fraction of the African working-age population can draw on online employment solutions geared towards job seeker requirements such as increasing exposure of individual career profiles to opportunities, understanding reasons for job rejections, raising awareness about minimum qualification requirements and how/ where to acquire further education off- and online.
The vast majority of existing online employment solutions are geared towards requirements of organizations such as managing applicants and displaying jobs, neglecting the job seekers career lifecycle and losing job candidates once they apply for positions.
Born out of a necessity to empower job seekers across the African continent, a small team set sail on a journey to build an Africa-focused, two-sided online employment platform called "afringa.com". Overall goal is to give African job seekers a transparent and powerful tool to develop and progress their career journeys and to provide organizations with a trusted solution to identify the best available talent for any given job position.
Victor Thien, afringa's founder and CEO puts it like this: "We believe the African continent calls for its very own digital platform that simplifies the job application process and reduces cost and time for organizations as well as candidates. Job seekers benefit from a greater market transparency, now making it possible to find jobs, career guidance and contacts across the African continent." Job seekers from all backgrounds and levels of education can set up their afringa online career profile, explore job opportunities, and use video technology to apply. Job seekers services are entirely free of charge and the only requirement is an email address.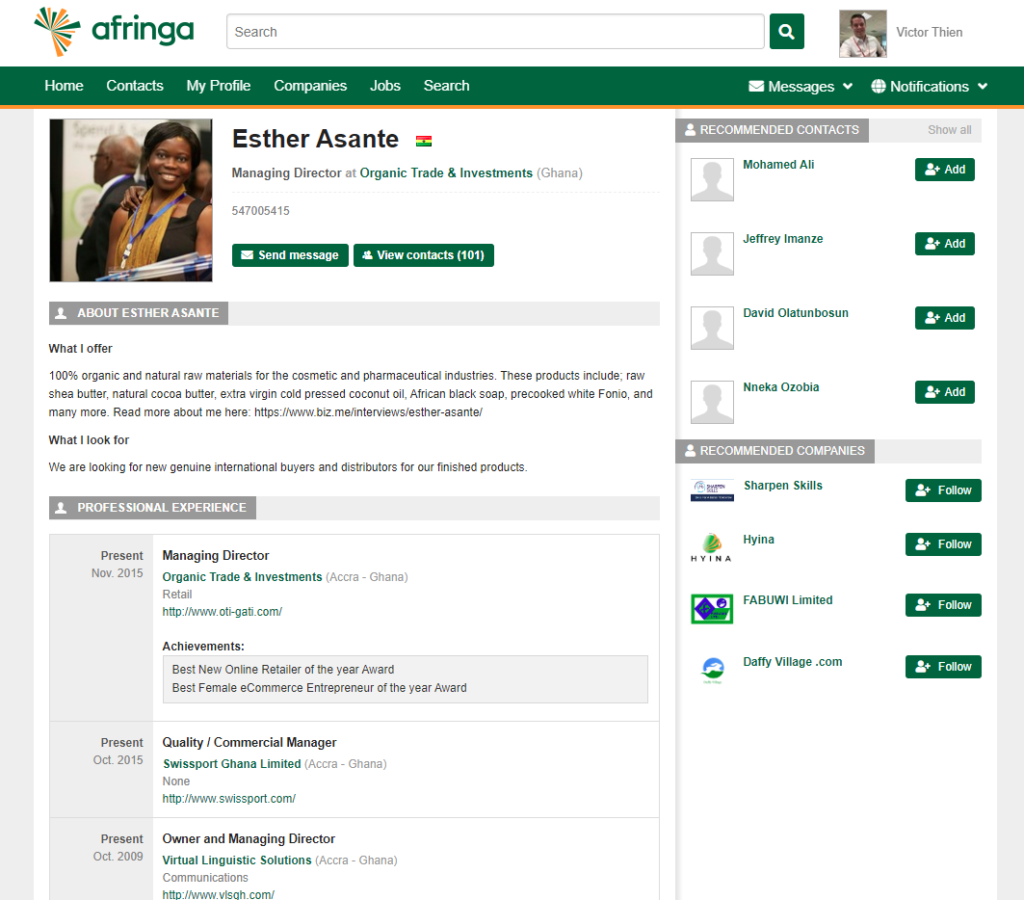 Companies on the other hand have to pay for afringa's recruiting services such as jobs they want to advertise. The standard solution allows companies to use the innovative video recruiting tool. Job candidates respond to job postings with a video message introducing their personality and motivation. In a second video, candidates demonstrate their problem-solving skills on a given case. After all, a video conveys the job seeker's personality more individually than a traditional cover letter. This way, recruiters can easily shortlist candidates and conduct final interviews with the most suitable aspirants.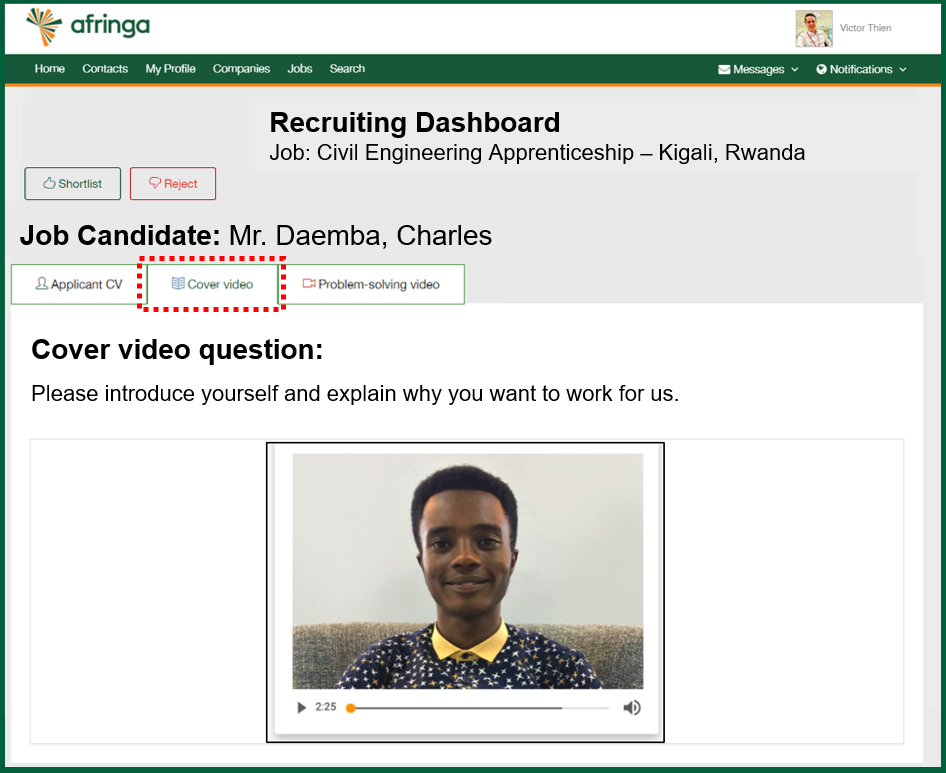 Machine learning technology will play a vital role in afringa's future platform enhancements. The team plans to incorporate a personal education counselling system, as well as individual guidance to support rejected candidates to improve their chances for employment with recommendations for further education.
To date, the afringa platform has connected numerous job seekers with their desired jobs, has supported African and multinational organizations to identify matching new employees, and has facilitated introductions between entrepreneurs and investors.
Our vision is to become the leading and most trusted digital platform, connecting job seekers, professionals and organisations across the African continent more efficiently.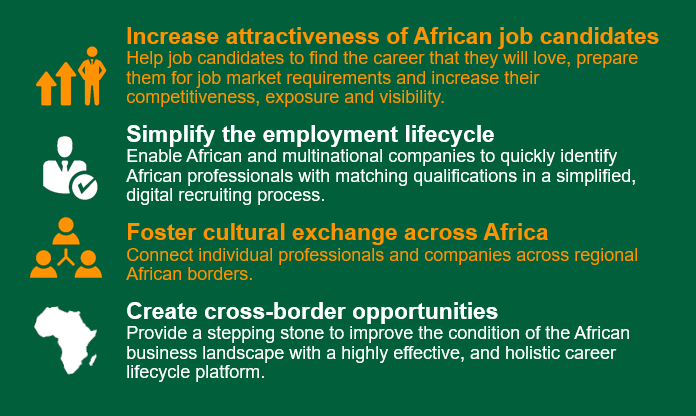 Facts & Figures:
afringa was founded in 2017 by German/Finnish entrepreneur Victor Thien. He started his first own company at the age of 16. After finishing his Business Studies Victor spent eight years in technology management consulting with Ernst & Young in Europe, Asia, and the United States. Following numerous visits to African countries and his general fascination for the continent, its people, and cultures, he founded afringa.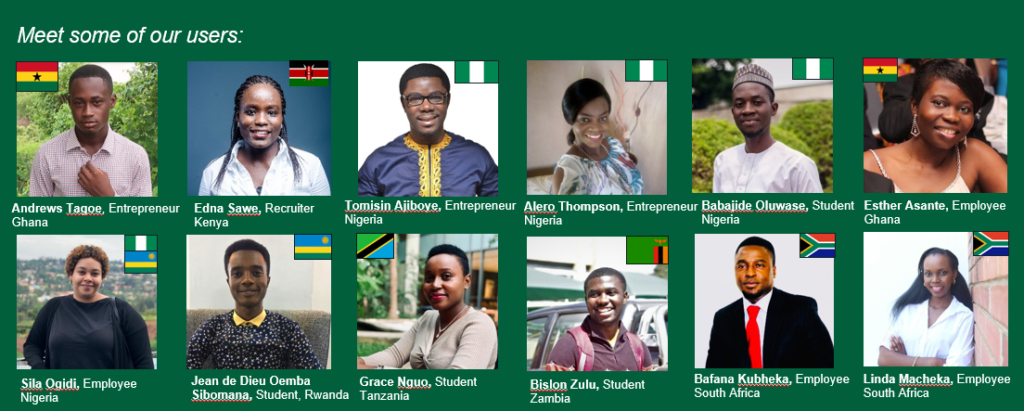 For further information, please contact:
Victor Thien (Founder and CEO)
victor.thien@afringa.com
+49 174 678 5787