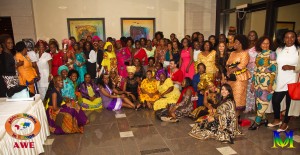 The growth of African Woman in Europe (AWE) has been a great success, with overwhelming support from women in Europe and Africa. We salute all women who work tirelessly to achieve their personal goals while serving as a positive influence on the community at large.
Our vision is to extract and recognize the potential within and without and empower women to reach out to other women and the communities with whom they interact daily as they achieve their full potential.
In our AWE AWARD CEREMONIES, which are held in various European venues every other year, AWE recognizes women in the market place who go above and beyond the call of duty.
AWE conferences are also great platforms at which we organise tailored workshops to fit our members' needs. Women learn and network with each other.
Our mission
To reflect a positive image of an African woman by creating an atmosphere in which women can network, support, encourage and empower each other.
Aims and Objectives
• Empower African women
• Support upcoming and existing entrepreneurs
• Reflect the image of the African woman positively
• Provide an informative and easy-to-manage networking platform
• Faster Connection and form sustainable partnerships among members
• Organise face-to-face Networking Events, e.g. awards, conferences and workshop
• Establish an AWE GPS Mentoring project for youth in Europe and Africa including entrepreneurs
About AWE Awards
The AWE award started in 2010 with the aim of recognising and honouring African women living, working and studying in business in Europe. The need for the Award came from an assessment conducted through the African women in Europe website, which has over 1000 registered members. The need exists to honour these women for being good role models in their communities. Candidates from all over Europe (both AWE members and non-members) apply for the Awards. An appointed judicial board select the most qualified nominee in each category. Thereafter, the awards are presented to the winners during the Award ceremony. The ceremonies are held in different cities in Europe, and everyone is invited to attend.
Objectives and aims
• Empower and recognise African Women in Europe
• Educate members through speeches and workshop during the Award ceremonies
• Support upcoming and existing entrepreneurs by marketing their work
• Organise a networking Event.
AWE was launched in 2008 as a private initiative registered in Germany. We will be celebrating the tenth Anniversary in Amsterdam on 30th June 2018. The event will include workshops and a Gala dinner.
AWE GPS Mentoring Project 
We acknowledge the work of eLearning Africa and would like to support it through a partnership with the new project Mentoring African Youth and Entrepreneurs.
What is AWE GPS Mentoring?
AWE GPS Mentoring is a collaborative program between mentors and mentees
AWE GPS Mentoring aims to support African women and youth residing in Europe due to relocation or for the purpose of education. It will also include mentoring youth in Africa in different sectors, e.g. start-up entrepreneurships and students, by bridging the gap between academic learning and workplace practices, as well as developing soft skills and confidence.
The objectives of the program are to
• support the integration of students and new arrivals in Europe
• raise aspirations and commitment levels to professional development
• support the development of career plans and goals
• identify specific areas of employment available to graduates
• expose students to professional networks and those in senior roles
• develop people and project-management skills