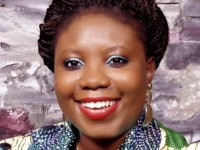 Serial social entrepreneur and youth mentor Toyosi Akerele-Ogunsiji is the founder of RISE Networks, a leading Nigerian development concern with a focus on education and technology. From its beginnings as a youth magazine, RISE has grown to encompass the Rise National Youth Forum, a youth empowerment event held in about 20 universities across 23 states of Nigeria, and numerous programmes relating to job creation, leadership, child literacy and ICT for education. In 2012, in response to high failure rates in national examinations, PASSNOWNOW was created, offering free teaching resources online in an accessible format. The eLearning Africa News Service caught up with Akerele-Ogunsiji to find out what drives her passion for innovation.
The inspiration behind the rise of RISE came when Toyosi was studying Law at the university of Jos, where during her second year she founded the flagship youth magazine. She soon realised the discrepancy between what she felt was the magazine's maximum reach – 100,000 people – and the total youth population of Nigeria – about 65 million – an experience she describes as "jarring".
"That was the instance I became convinced of the need to employ technology to drive even greater change that was badly much in need, and I haven't stopped since nor ever felt the need to", she says.
Africa's young population is often cited as an important asset, and it is in allowing this generation to achieve its full potential that better education and access to technology are considered vital. "No country should expect to make any significant economic progress if her youth – and a very large one at that – are not empowered for success and sustainable progress", Toyosi says – and is strident in her declaration of what she believes Nigerians can achieve.
"There is no reason why Nigeria cannot recreate China's success in both size and scope given her immense   population… why she couldn't be a major technological hub seeing how she has within her territory a preponderance of the most successful tech startups in Africa; why she shouldn't be able to turn out revenue running into the billions of dollars from her movie and music industry seeing how her actors and musicians are the toast of Africa and Diaspora Africans… Competent Nigerian youths ought to take up more roles that shape and define policies in Africa and the West African sub-region."
Against these are the negatives, struggles which Toyosi believes are shared by young people across sub-Saharan Africa: poor government, "failing, inadequate or completely non-existent infrastructure and a general prevailing air of incapacitation". Within Nigeria she identifies three manifestations of these negatives that are holding the country back: an over-dependence on oil to the detriment of manufacturing, high youth unemployment and "a divergence between what is taught in schools and the skills that are required in the real world..
Empowering young people to overcome these challenges is at the core of Akerele-Ogunsiji's work. PASSNOWNOW, for example, not only aims to help students and teachers to pass their examinations, but also gives them "access to content on world history, current affairs, science and technology, health and personal safety… important information that would not only come in handy someday, but grooms them into knowledgeable, urbane students of life."
She expresses her vision for the future of education in Nigeria in three goals: access, quality and relevance. It will be a future, she says, "where the children of poor parents, a pregnant school girl, and the street hawker who desire to have an education will feel no impediment whatsoever to achieving their goals" , and where teachers nurture students' "ability to ask hard, probing questions and be unrelenting in seeking their answers; for therein lie the innovations of our collective future."
Such a future will be some time in the building, but the work of RISE is helping to bring Toyosi Akerele-Ogunsiji's visions to fruition. By reaching out to Nigeria's youth and strengthening them with a shared vision, she hopes to see how "like a stone dropped into a placid lake… the ripples of change will spread."
Toyosi Akerele-Ogunsiji will be a keynote speaker at eLearning Africa 2016 in Cairo, Egypt. "I believe that eLearning Africa 2016 will give me an opportunity to further connect with a new set of change makers, problem solvers, tech enthusiasts and stakeholders within the Education Technology Ecosystem with whom I can exchange ideas and extend the impact of my work," she says. To find out more about eLearning Africa 2016, its keynote speakers and programme, visit http://www.elearning-africa.com/