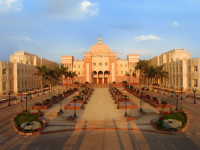 Professor Hani Ghali, Centre for Emerging Learning Technologies CELT, BUE
The noticeable progress of information and communication technologies and associated development tools, together with the availability of reliable internet connectivity, have created unlimited opportunities for eLearning activities. These have motivated teachers to think about new non-conventional interactive eLearning modes of teaching and associated learning activities. Amongst the numerous interactive learning activities, online experimentation is considered one of the most effective strategies within the eLearning environment once practical knowledge has been acquired.
Remote online experimentation, online testing and verification, as well as web-based simulation are typical examples of a challenging research and development area which can transform any location with internet connectivity into a typical laboratory, where students can perform different types of experimentation exercises using standard internet browser capabilities.
However, unlike existing traditional laboratories with availability limited by the institution's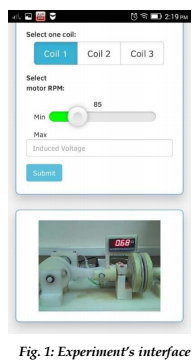 working hours, remote online experimentation provides students with unlimited opportunities to perform assigned tasks and exercises anytime, and from anywhere. Consequently, such an online facility represents a continuous learning support that students are able to use during their normal study outside campus working time.
Remote online experimentation also provides an attractive economic solution for universities with a large number of students, where the availability of sufficient laboratory equipment represents a significant financial dilemma. In addition, for universities with limited campus working hours, remote online experimentation represents an appealing option taking into account the limitations of students' availability within the university's campus. Remote experimentation might also be considered an indispensable learning tool in possible contingency procedures.
During the past few years, the British University in Egypt (BUE) has been involved in the development of online experimentation and testing facilities within a TEMPUS-EU framework. Different types of web-based experimentation for undergraduate students have been developed. These include a), online simulation-based experiments in the field of "communications systems" and b), online remote experimentation in support of "electricity and magnetism" modules. Developed online experiments have been fully integrated within the delivered curricula as part of modules' assessments, where students' feedback showed an increased engagement which, in some cases, reached unprecedented levels.
The developed experiment's interface (Fig. 1) i.e., the screen which appears to the student in the browser usually includes a), boxes for input data, b), control knobs or selectors for the experiments' input parameters, c), graphs or tables to display results and, d), live streaming video to monitor the experiment's performance and allow students to visualise and record readings from meters attached to the experiment.
However, one of the main issues of concern, in the early stage of development at the BUE, was the necessity of using computers at the client "student" side to perform the remote online experimentation activities. This was mainly due to the implemented development technology which limited the mobility of such online testing applications.
Realising the growing impact of portable devices in the eLearning modes of teaching, the BUE has successfully adopted new development technologies to enable the use of any portable device (smart phones, tablets, laptops) to perform these remote online experimentation tasks using a standard internet browser. The developed platform allows users with different operating systems such as Android, iOS and Windows to perform these online experimentations, providing students with a fully portable experimentation application.
The developed online experiments are not only limited to undergraduate students, but also serve postgraduate students. For undergraduate students, different remote online experimentations in the field of "Electricity and Magnetism", "Signal Analysis", and
"Mechanics of Machinery" have been developed. As for postgraduate students, an online outdoor PV characterisation setup has been established.
The availability of such technology and associated technical capabilities at the BUE provides staff with an unprecedented chance to develop customised online experimentation setups for the enhancement of students' skills and knowledge which will be reflected in the quality of BUE's graduates.
Moreover, an online booking system associated to students' information records is currently being developed to manage the accessibility to the experimentation platform. This will allow students to book appropriate time slots for the requested experiment while at the same time allowing the instructor to monitor the students' performance during the assigned session. Grading and feedback will also be integrated within the platform.
Finally, different possible modes of online experimentation sessions are currently being investigated. These might include a single student, an instructor performing a demonstration session to a group of students, and a single student in addition to an instructor for assistance, providing students with a typical laboratory environment.