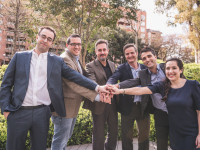 Phillip Miller is the International Vice President of Open Source services at Blackboard. He has worked there and in Moodlerooms, Blackboard's main open source product for education, for over ten years. Phillip works with 1,500 Moodle clients from all over the world and helps shape the roadmap of this open source platform so that these organisations can reach their teaching and learning goals. Open source means that each client has access to the most widely used LMS in the world and also has the opportunity to modify it to meet their specific needs.
By Christina Gómez Echavarría
"Open source is important in education. I think the open source philosophy is very close to the philosophy of open research, open interaction, and open dialogue in education", Phillip explained. He appreciates that teaching is done by teachers and learning by students. However, Moodle acts as a tool, as a vehicle, to make education simpler in today's world. "Our perspective on learning is how we support instructors and students in the field in order to provide better teaching and learning experiences".
One of the newest tools available in Moodlerooms is called X-Ray Learning analytics. When teachers instruct in a physical classroom, they know in real time who is paying attention, who is participating, and who isn't. However, it would seem impossible to know all this in a virtual classroom. With X-Ray Learning Analytics, teachers have various indicators about their students, such as activity and participation and how much critical thinking is going on within students' private chat rooms. Using this data, the program can predict activity levels and actually suggest final grades for each student.
"Blackboard, in its desire to be a global leader in education, realized that if you want to have an impact on education, you have to be part of that movement. There is no other company in the world that wakes up thinking about teaching and learning using technology and puts as much effort and commercial weight behind it. This is where we want to go, just to reach the next step in the LMS", said Phillip. He appreciates that instead of being a company that just creates software, the Blackboard and Moodlerooms teams have to constantly communicate with their clients – everyone from the design team, to product managers, to focus groups – to make sure that the clients have what they need. "We have a series of services that we wrap around the teaching and learning space, that try to go beyond the technology and focus on how we really implement processes and procedures that help students be more successful and programs be more effective".
"Our perspective on learning is how we support instructors and students in the field in order to provide better teaching and learning experiences."
Phillip explains that ten years ago, LMS software like Moodle and Blackboard Learn was viewed as a luxury. Today, it is taken for granted that institutions and universities have some form of LMS. Bearing this in mind, the real objective for Blackboard and Moodle is to go beyond technology and software development and try to envision the future of education. "The next phase for us is moving towards really tracking competence – as opposed to degrees, skills, and hours spent in a classroom. I think that in the future we are going to see people be more focused on sets of skills that people want to have in order to make them job ready", Phillip explained. This is why Blackboard is not only reaching out to educational institutions but also to corporations that want to give their workers specific skills, and Blackboard's missions include making sure learners acquire those skills and trying to track them. "The future is analytics; it is personalization of learning; it is allowing people to take courses across multiple universities or cities. We are trying to think beyond just an LMS on its own".
Find out more about Moodlerooms at the eLearning Africa 2016 conference taking place on May 24-26 in Cairo, Egypt.