By Ferhana Dostmohamed
The skills gaps in Africa are an immediate problem. "Employers across the region already identify inadequately skilled workforces as a major constraint to their businesses, including 41% of all firms in Tanzania, 30% in Kenya, 9% in South Africa and 6% in Nigeria. This pattern may get worse in the future. In South Africa alone, 39% of core skills required across occupations will be wholly different by 2020." (World Economic Forum – Future of Jobs and Skills in Africa 2017)
Companies need to upskill their workforces' critical core and soft skills quickly, immediately and on an ongoing basis. Traditional solutions such as full-day classroom events are no longer practical, as they make staff unavailable for long periods to complete their day-to-day business requirements. The solution needs to be practical and sustainable.
Many organisations across the globe are therefore using a more blended approach, in which – based on the type of learning required – they will integrate short bursts of information along with longer practice-based training. This approach allows staff to get the theory and other knowledge-based information in shorter, more flexible times, providing the ability to go back and review the content. They are then provided with practice in the framework of hands-on learning in face-to- face settings, during which they can apply their knowledge toward reinforcing the skills.
This is where microlearning comes in. Microlearning is essentially bite-sized learning that is targeted to individual needs, focused on specific skills, and easily accessed – in other words, just in time and just enough.
Why choose microlearning?
It's sp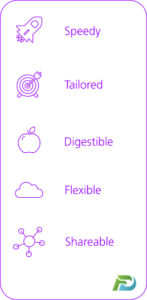 eedy: Microlearning can be built quickly, can use both high and low- tech solutions, and is cost effective.
 It's tailored: Microlearning can be personalised, focusing on the skills gaps each individual has, rather than taking a blanket approach.
 It's digestible: Microlearning presents small, bite-sized, concentrated units of information focusing on a specific skill or set of behaviours. It doesn't overload learners.
 It's flexible: Microlearning is accessible in many different formats and across various platforms.
It's shareable: Microlearning offers the ability to build or access a repository of different topics, catering to all levels of staff within the organisation, as well as leadership.
There are many different ways in which organisations are upskilling staff using microlearning. Here are some common examples:
Induction and Onboarding: Training sessions provide a series of short just-in-time videos and eLearning to new staff so that they acquire knowledge of the company while gaining familiarity with their tasks.
Leadership Skills: Busy managers who need critical skills are able to take 5-15 minutes to learn about skills they need at the moment, such as coaching, giving feedback, handling difficult conversations, etc. These short bursts of learning taken at time of need ensure the knowledge is applied right away.
Program Simulations: Many organisations break down systems training into specific steps, making it easy for staff to find the exact steps they need to perform the task in the moment.
Compliance Training: Following legal and safety rules is important for organisations to protect themselves and their staff. Typically, most organisations do compliance training during onboarding or once a year. With microlearning, there is more flexibility to reinforce learning in an efficient manner at various times. This can include job aids or cheat sheets placed at the point of need.
The ability to personalise learning to fit employees' individual needs is a powerful and practical approach to addressing the skills gaps that constrain businesses, and as a result, growth in Africa. Building a library of easy-to-access content that staff can refer to just in time is a strategy which many organisations globally have included as part of their digital learning strategy. It is a proven strategy that can provide a quick boost to organisations.
Join me in for my presentation at eLearning Africa, taking place in Kigali on September 26th, 2018. Together we will identify the key skills African economies require, as well as discuss strategies, tools, and implementation of microlearning to help address this need.