by Aleesha Boolaky
Many SMEs are being managed and operated by women entrepreneurs (WEs) who contribute much to the SME sector. In Mauritius, women empowerment through entrepreneurship is among the main themes in the national SME Master Plan. However according to the world Bank "While Mauritian women are making major strides in terms of educational attainment at primary and secondary levels, they often lack the combination of education, vocational and technical skills and work experience needed to support the development of highly productive businesses". Nevertheless, with the explosion in use of mobile devices and reduction in cost of ICT in Mauritius using online tools has become more accessible. The main aim of our project is to empower WEs through digital education and how to use e-banking tools as a service enabler and facilitator in their financial transactions by using a personalized and adaptive approach through an online platform.
The first phase of the project employed a multi-method approach with both quantitative and qualitative studies. A survey instrument solicited nearly 330 WEs' responses regarding their knowledge of digital tools and concepts and their attitudes and behaviours towards the usage of e-banking tools in their business processes. Furthermore, focus group discussions targeted WEs and stakeholders including support agencies for WEs, and banking institutions having SME windows.
The main outcomes can be summarized as follows:
Many WEs especially those who could not pursue higher academic studies are not using electronic banking for their business transactions and waste much time in queuing in bank branches for their daily banking transactions.
The cash society is still predominant among this segment of entrepreneurs. Traditional commerce is being adopted by WEs without any digital facilitation platform that enables electronic payments.
WEs are still lagging behind in the adoption of digital tools such as computer systems, email address as well as other basic digital facilities for enterprises. However, majority of WEs possess smartphones and regularly access internet mostly social media for their personal uses and occasionally for their businesses. Many WEs in the handicraft sector "watch You Tube Videos to learn about new designs and techniques".
A good proportion of WEs especially those running micro-enterprises do not have bank cards in their name or the names of their businesses. Some WEs "depend on their spouses or children" to conduct banking transaction using digital services. Nevertheless, they are motivated to learn about these tools to be able to handle their "business money independently".
WEs face additional time constraint compared to their male counterparts. As clichéd as it may sound, WEs endorse many responsibilities for running their homes and looking after their families thus adding to the difficulties which compromise the survival of their businesses.
It was also found that although there are some existing digital literacy programmes that are readily available on the market, yet a majority of WEs in Mauritius still do not tap on the potentials of these IT literacy programmes as they are not perceived as being " hands on". This is why attending face to face and generic training sessions organized by the different stakeholders may not be the most adapted solution.
It is therefore imperative to design and promote tailor made training solutions to empower WEs in adopting e-banking solutions for her business activities.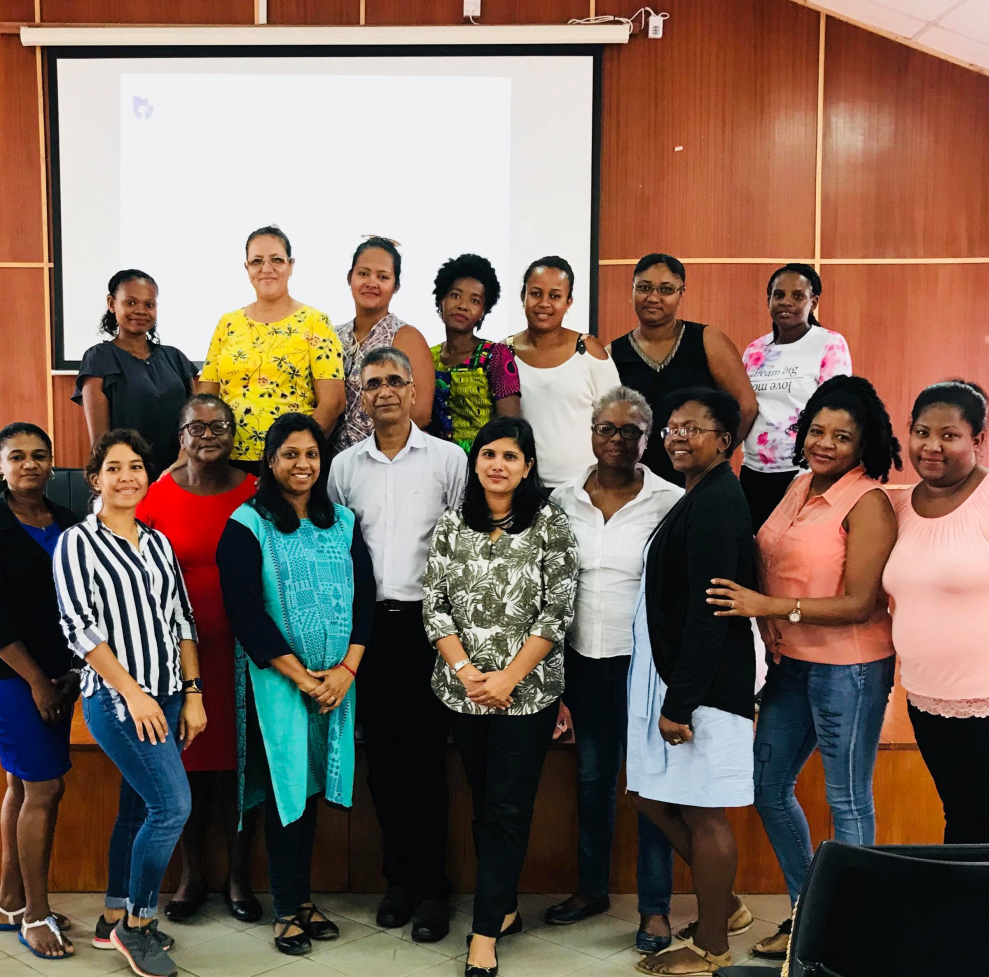 The training need analysis emanating from the first phase of the study resulted in the development of the content for the digital education programme as well as the online user friendly solution. Adaptive training materials are being developed and integrated on the Moodle Platform under the guidance of a Technical Advisory Committee including the key stakeholders in IT and SMEs in Mauritius. The training content will include a preliminary course on the basic facts on e-banking in Mauritius, and tutorials on the usage of e-banking tools namely ATM, Point of Sales, Internet Banking and Mobile Banking. The training will be developed on a simulative and interactive environment of an ATM, mobile and internet banking. Additionally, online contents with animated graphics, multimedia support tools such as video clips will be integrated where Mauritian creole shall be used with possibilities of adapting to other languages. Moreover, online practical exercises shall be used as validation tools to assess whether learning has taken place and self-tests will be included to measure their performances. The e-platform would embed other functionalities like chat groups to support networking among WEs and tools related to finance such as loan and foreign exchange calculators. Beyond the positive impact in their businesses, the e-platform strives in the medium term to integrate other features where WEs can migrate to e-commerce and e-business. This platform has the potential for replication within the African community.
Aleesha Boolaky -University of Technology Mauritius