Website Advertising Rates and Packages
eLearning Africa News provides news, features and background briefing about the latest developments in technology assisted learning in Africa, as well as information about what's going on in the eLearning Africa community.
It is also a hub for sharing ideas, experience and best practice in the field of Information and Communication Technology as a tool for development (ICT4D) and education (ICT4E) across Africa. And it is an advocate for the transformative change that education and technology are bringing to African economies.
Please register HERE to receive the newsletter and don't hesitate to contact us if you would like to contribute an article or tell us about an issue you think is important.
Our Audience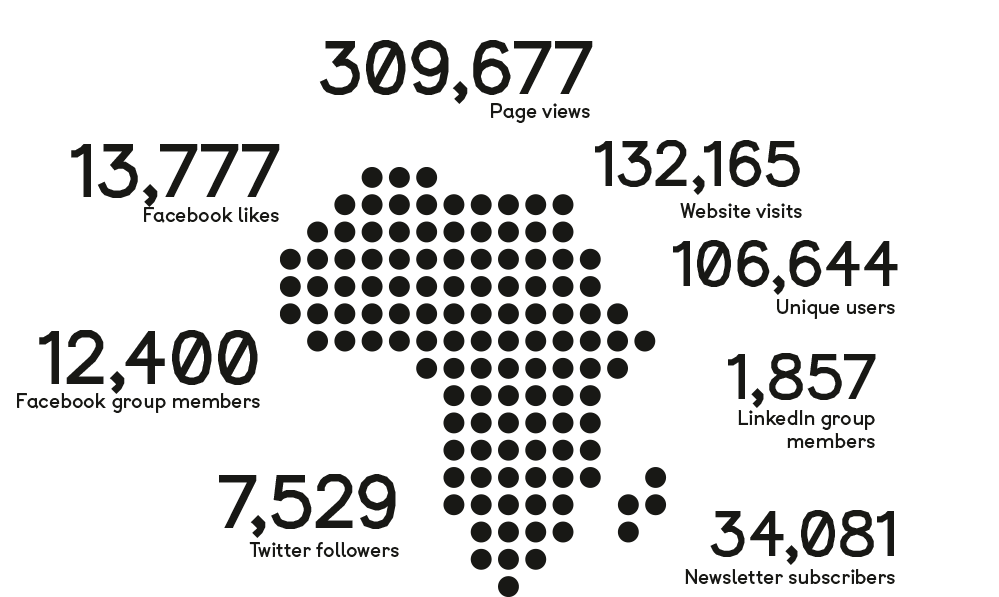 Ministers, Government Officials, Policy Makers
Senior Staff from Government Departments and International Development Cooperation
Leaders of Professional Associations, Expertise Centres, Trade Unions, Chambers of Commerce, Local and Regional Authorities, NGOs and Continuing Education Centres
Deans, Chief Academic Officers, Directors and Researchers from Universities and other Institutes of Higher Education
Library Professionals
Chief Information Officers, Deputy CIOs, Chief Data Officers, University IT Directors & Managers, IT Support, Programmers
University Presidents, Rectors, Vice-Rectors, Vice Chancellors, Deputy Vice Chancellors, Provosts, Vice-Provosts
Teachers and Educators in Primary and Secondary Education
Early Childhood Learning Specialists
Vocational Training Leaders
HR Managers, Learning & Development Leaders, CLOs and Talent Managers
ICT Program Directors/Managers and Service Providers
Educational Association Personnel
Curriculum Designers
Academic Technology Specialists, Instructional Technologists, Instructional Designers
Education Policy Makers
Education Solution Providers
Corporate Training and Development Executives
School Principals and Administrators, Teachers and Trainers
Business Trainers
Programme Managers and Education Administrators
Human Resources Executives, Talent Managers, Chief Learning Officers, Learning & Development Managers
Enterprise IT Professionals, IT Security Professionals, Policy Officers, Privacy Officers
IT Managers, Multi-Media and Software Developers / Specialists
Technology Service Providers
Publishers, Analysts and Content Providers
eLearning Specialists, Multimedia and Software Designers, System Integration Specialists and End-User Support Managers, Social Media specialists, Learning Support Students
Training Consultants and Company Representatives
Performance and Competence Management Specialists
State Department of Education
M-Learning Specialists
eLearning Solution Providers
Advertising Options – Where can you see your advertisement?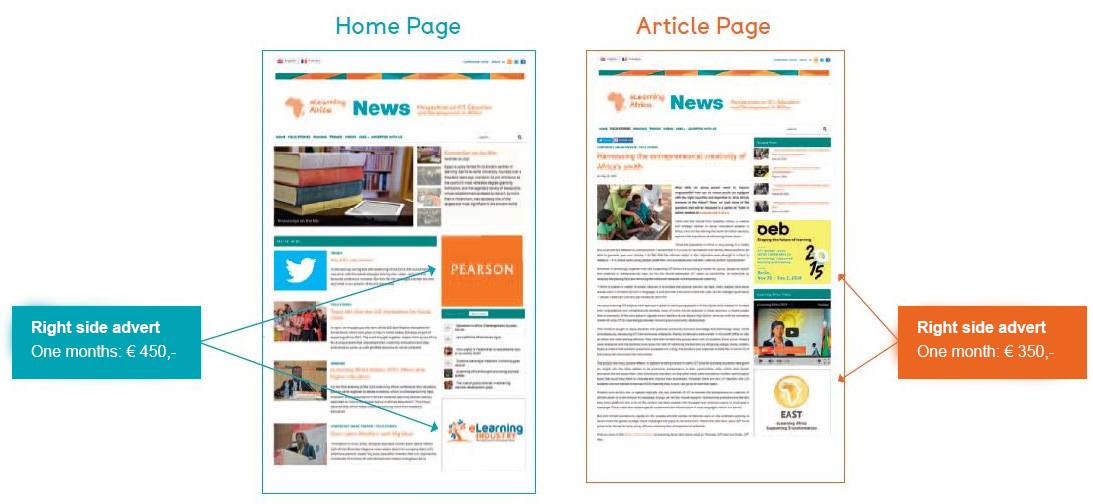 Home Page Right side advert
One month: € 450,-
Article Page Right side advert
One month: € 350,-
Social Media Bonus
To further promote your brand and its story, all advertisers' websites will be shared with the eLearning Africa social media audience.
Interested in advertising on the eLearning Africa News Portal?
Phone us or send us an email to discuss your package options:
marketing@elearning-africa.com
+49 (0)30 310 18 18 0
Other marketing and sales opportunities with eLearning Africa
For more opportunities to communicate about your product or service to the eLearning Africa audience, ask our Sales team about our other platforms to reach your audience.
Please note that all prices quoted exclude VAT, and availability of advertising spots may change depending upon time of year and demand.